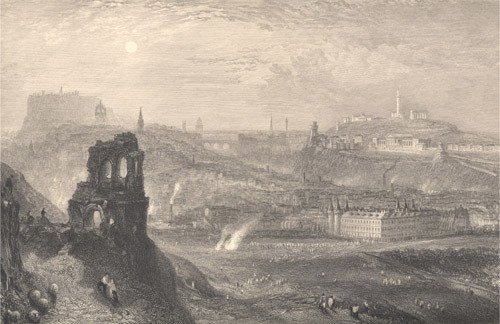 Edinburgh, engraved by W. Miller after J.M.W. Turner (1836).
From: The Prose Works of Sir Walter Scott, Bart. Vol. 22 (Edinburgh: Cadell, 1836).

Founded as a fortress town by Edwin of Northumbria in 626, Edinburgh was captured for Scotland by Malcolm II ('Malcolm Canmore') in 1018. Although Dunfermline remained the nation's capital, Edinburgh rapidly became its major metropolis. The city was occupied and the Castle sacked by Edward I of England in 1296, but was retakened by the Scots in 1313. Robert the Bruce granted Edinburgh a Royal Charter in 1329, and by the 16th century, it had supplanted Dunfermline as capital of Scotland.