[It is necessary that the Reader should be informed, that in the legends of German[1] superstition, certain mischievous Spirits are supposed to preside over the different Elements, and to amuse themselves with inflicting calamities on Man. One of these is termed the WATER-KING, another the FIRE-KING, and a third the CLOUD-KING. The Hero of the present piece is the ERL or OAK-KING—a fiend who is supposed to dwell in the recesses of the forest, and thence to issue forth upon the benighted traveller to lure him to destruction.][2]
O! Who rides by night thro' the woodland so wild?
It is the fond Father embracing his child;
And close the Boy nestles within his lov'd arm,
From the blast of the tempest to keep himself warm.          
"O Father! see yonder, see yonder!" he says.                                                    5
"My Boy, upon what dost thou fearfully gaze?"
"O! 'tis the ERL-KING with his staff and his shroud!"
"No, my Love! it is but a dark wreath of the cloud."
            [The Phantom Speaks]
"O! wilt thou go with me, thou loveliest Child!
By many gay sports shall thy hours be beguil'd;                                            10
My Mother keeps for thee many a fair toy,
And many a fine flow'r shall she pluck for my Boy."
"O Father! my Father! and did you not hear,
The ERL-KING whisper so close in my ear?"
"Be still, my lov'd Darling, my Child be at ease!                                             15
It was but the wild blast as it howl'd thro' the trees."
            [The Phantom]
"O wilt thou go with me, thou loveliest Boy!                
My Daughter shall tend thee with care and with joy;                
She shall bear thee so lightly thro' wet and thro' wild,                
And hug thee, and kiss thee, and sing to my Child."                                     20
"O Father! my Father! and saw you not plain                
The ERL-KING 's pale daughter glide past thro' the rain?"                
"O no, my heart's treasure! I knew it full soon,                
It was the Grey Willow that danc'd to the moon."                                    
            [The Phantom]                
"Come with me, come with me, no longer delay!                                           25
Or else, silly Child, I will drag thee away."                
"O Father! O Father! now, now, keep your hold!                 
The ERL-KING has seiz'd me—his grasp is so cold!"
Sore trembled the Father; he spurr'd thro' the wild,                
Clasping close to his bosom his shuddering Child;                                       30
He reaches his dwelling in doubt and in dread;                 
But, clasp'd to his bosom, the Infant was dead!
---
1. In the edition of this poem found in Ballads and Lyrical Pieces (1806), the word "German" is dropped, and that of "Danish" substituted (165). Goethe's poem was inspired by the Danish ballad translated as the "Erlkönigs Tochter" [Erl-King's Daughter] in Herder's Volkslieder (1778-1779). The reference to the other element-kings in Scott's head-note alludes not to the Danish source material but to a discussion of them in Lewis's The Monk and to Lewis's plan to include a series of ballads on element-kings in his Tales of Wonder. See footnote #1 to "The Water-King" for more information on the element-king ballads.
2. Scott's note. Scott's translation of Goethe's famous ballad must have been written during the period in 1797 when, having finally obtained "copies of Bürger, Schiller, Goethe, and other standard German works," Scott says that he "began to translate on all sides" ("Essay" 43). In a letter to Miss Christian Rutherford in 1797, Scott sent a copy of his "Erl-King" with the following note: "I send a goblin story, with best compliments to the misses. … I assure you, there is no small impudence in attempting a version of that ballad, as it has been translated by Lewis" (Lockhart 1: 239).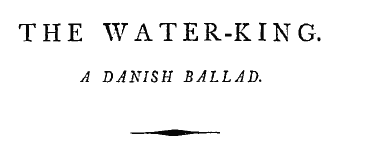 WITH gentle murmur flow'd the tide, [1]
While by its fragrant flowery side
The lovely maid, with carols gay,
To Mary's church pursued her way.
The Water-Fiend's malignant eye                                                                       5
Along the banks beheld her hie;
Straight to his mother-witch he sped,
And thus in suppliant accents said:
"Oh! mother! mother! now advise,
How I may yonder maid surprise:                                                                      10
Oh! mother! mother! now explain,
How I may yonder maid obtain."
The witch she gave him armour white;
She form'd him like a gallant knight:
Of water clear next made her hand                                                                    15
A steed, whose housings were of sand.
The Water-King then swift he went;
To Mary's church his steps he bent:
He bound his courser to the door,
And paced the churchyard three times four.                                                   20
His courser to the door bound he,
And paced the churchyard four times three;
Then hasten'd up the aisle, where all
The people flock'd, both great and small.
The priest said, as the knight drew near,                                                         25
"And wherefore comes the white chief here?"
The lovely maid she smiled aside;
"Oh! would I were the white chief's bride!"
He stepp'd o'er benches one and two;
"Oh! lovely maid, I die for you!"                                                                         30
He stepp'd o'er benches two and three;
"Oh! lovely maiden, go with me!"
Then sweetly smiled the lovely maid;
And while she gave her hand, she said,
"Betide me joy, betide me woe,                                                                          35
O'er hill, o'er dale, with thee I go."
The priest their hands together joins;
They dance, while clear the moon-beam shines:
And little thinks the maiden bright,
Her partner is the Water-Spright.                                                                      40
Oh! had some spirit deign'd to sing,
"Your bridegroom is the Water-King!" [2]
The maid had fear and hate confess'd,
And cursed the hand which then she press'd.
But nothing giving cause to think                                                                      45
How near she stray'd to danger's brink,
Still on she went, and hand in hand
The lovers reach'd the yellow sand.
" Ascend this steed with me, my dear!
We needs must cross the streamlet here:                                                          50
Ride boldly in; it is not deep;
The winds are hush'd, the billows sleep."
Thus spoke the Water-King. The maid
Her traitor-bridegroom's wish obey'd:
And soon she saw the courser lave                                                                     55
Delighted in his parent wave.
"Stop! stop! my love! The waters blue
E'en now my shrinking foot bedew."
"Oh! lay aside your fears, sweet heart!
We now have reach'd the deepest part."                                                           60
"Stop! stop! my love! For now I see
The waters rise above my knee."
"Oh! lay aside your fears, sweet heart!
We now have reach'd the deepest part."
"Stop! Stop! for God's sake, stop! for oh!                                                          65
The waters o'er my bosom flow!"
Scarce was the word pronounced, when knight
And courser vanish'd from her sight.
She shrieks, but shrieks in vain; for high
The wild winds rising, dull the cry;                                                                   70
The fiend exults; the billows dash,
And o'er their hapless victim wash.
Three times, while struggling with the stream,
The lovely maid was heard to scream;
But when the tempest's rage was o'er,                                                              75
The lovely maid was seen no more.
Warn'd by this tale, ye damsels fair,
To whom you give your love beware!
Believe not every handsome knight,
And dance not with the Water-Spright! [3]
1. The source for this poem is Herder's "Der Wasserman." This poem originally appeared in the first edition of The Monk, as the page Theodore terrifies the too credulous nuns of St. Clare with a ludicrous account of Danish elemental-king mythology. In an extensive note to this poem in the fourth edition of the novel, in which he includes his versions of "The Erl-King" and "The Erl-King's Daughter," Lewis explains the source of his interest in the element-kings: "Many enquiries have been made respecting the elementary monarchs mentioned a few pages back, I must inform my readers, that all I know respecting the Water-King (called in the German translation "Der Wasserman"), and the Erl-King (called in German "Erl-König"), is gathered from the foregoing ballad, and the two others which I shall here insert. With respect to the Fire-King and the Cloud-King [both mentioned in Theodore's account], they are entirely of my own creation; but if readers choose to ascribe their birth to the "Comte de Gabalis," they are very welcome" (466). When soliciting poems for what would become his Tales of Wonder, Lewis asked Scott and his friend John Leyden to contribute, respectively, ballads on the Fire-King and the Cloud-King. Both complied. Scott's "The Fire-King" appeared in Lewis's collection, but Lewis felt that Leyden's poem lacked the necessary elemental characteristics and re-titled it "The Elfin-King" (Tales of Wonder #31). Lewis would go on to compose his own "Cloud-King" for the collection.
2. The text of the poem in the fourth edition of The Monk reads "bridegroom" instead of "partner." This and several other minor variants indicate that Scott was drawing from an earlier edition of the novel (the first through the third reads "partner"). See the note on the textual variants for "Alonzo the Brave and Fair Imogine" for further evidence that Scott drew these two poems from an early edition of The Monk.
3.  This rather silly, tacked-on moral, coupled with the nonsensical repetitions ("paced the church-yard three times four / . . . four times three"), may indicate that Lewis intended this poem as a parody of Gothic balladry.  Its original context, Theodore's outrageous account of the myths of the Danes (who, he tells the nuns, "are of delicate pea-green, with flame-coloured hair and whiskers"[252]), lends support to a comic reading. Scott later in his "Essay on Imitations of the Ancient Ballad" would criticize Lewis for his "attempts at what is called pleasantry" (51). Syndy Conger discusses how Lewis converts the serious storm and stress elements of the ballad into melodrama (44-48).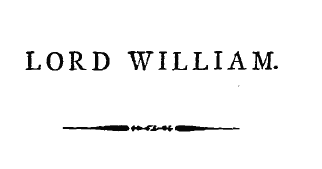 NO eye beheld when William plunged
    Young Edmund in the stream;[1]
No human ear but William's heard
    Young Edmund's drowning scream.
Submissive all the vassals own'd                                                                                    5
    The murderer for their Lord,
And he, the rightful heir, possess'd
    The house of Erlingford.
The ancient house of Erlingford
    Stood midst a fair domain,                                                                                           10
And Severn's ample waters[2] near
    Roll'd through the fertile plain.
And often the way-faring man
    Would love to linger there,
Forgetful of his onward road,                                                                                          15
    To gaze on scenes so fair.
But never could Lord William dare
    To gaze on Severn's stream;
In every wind that swept its waves
    He heard young Edmund scream.                                                                              20
In vain at midnight's silent hour
    Sleep closed the murderer's eyes;
In every dream the murderer saw
    Young Edmund's form arise.
In vain, by restless conscience driven,                                                                           25
    Lord William left his home,
Far from the scenes that saw his guilt,
    In pilgrimage to roam.
To other climes the pilgrim fled,
    But could not fly despair;                                                                                             30
He sought his home again, but peace
    Was still a stranger there.
Each hour was tedious long, yet swift
    The months appear'd to roll;
And now the day return'd that shook                                                                           35
    With terror William's soul.
A day that William never felt
    Return without dismay,
For well had conscience kalender'd
    Young Edmund's dying day.                                                                                       40
A fearful day was that! the rains
    Fell fast, with tempest roar,
And the swoln tide of Severn spread
    Far on the level shore.
In vain Lord William sought the feast,                                                                          45
    In vain he quaff'd the bowl,
And strove with noisy mirth to drown
    The anguish of his soul.
The tempest as its sudden swell
    In gusty howlings came,                                                                                               50
With cold and death-like feelings seem'd
    To thrill his shuddering frame.
Reluctant now, as night came on,
    His lonely couch he press'd;
And, wearied out, he sunk to sleep,                                                                               55
    To sleep, but not to rest.
Beside that couch his brother's form,
    Lord Edmund, seem'd to stand,
Such and so pale as when in death
    He grasp'd his brother's hand:                                                                                    60
Such and so pale his face as when,
    With faint and faltering tongue,
To William's care, a dying charge,
    He left his orphan son.
"I bade thee, with a father's love,                                                                                   65
    My orphan Edmund guard;
Well, William, hast thou kept thy charge!
    Now take thy due reward."
He started up, each limb convulsed
    With agonizing fear;                                                                                                      70
He only heard the storm of night—
    'Twas music to his ear.
When lo! the voice of loud alarm
    His inmost soul appals,
"What ho! Lord William, rise in haste!                                                                          75
    The water saps thy walls!"
He rose in haste: beneath the walls       
    He saw the flood appear;
It hemm'd him round, 'twas midnight now,
    No human aid was near.                                                                                               80
He heard the shout of joy, for now
    A boat approach'd the wall,
And, eager to the welcome aid,
    They crowd for safety all.
"My boat is small," the boatman cried,                                                                         85
    "This dangerous haste forbear!
Wait other aid; this little bark
    But one from hence can bear."
Lord William leap'd into the boat,
    "Haste—haste to yonder shore!                                                                                   90
And ample wealth shall well reward,
    Ply swift and strong the oar."
The boatman plied the oar, the boat
    Went light along the stream;
Sudden Lord William heard a cry                                                                                  95
    Like Edmund's drowning scream.
The boatman paus'd, "methought I heard
    A child's distressful cry!"
"'Twas but the howling wind of night,"
    Lord William made reply.                                                                                            100
"Haste, haste—ply swift and strong the oar!
    Haste—haste across the stream!"
Again Lord William heard a cry
    Like Edmund's drowning scream.
"I heard a child's distressful scream,"                                                                           105
    The boatman cried again.
"Nay, hasten on—the night is dark—
    And we should search in vain."
"Oh God! Lord William, dost thou know
    How dreadful 'tis to die?                                                                                              110
And can'st thou without pity hear
    A child's expiring cry?
"How horrible it is to sink
    Beneath the chilly stream,
To stretch the powerless arms in vain,                                                                          115
    In vain for help to scream?"
The shriek again was heard.  It came
    More deep, more piercing loud;
That instant o'er the flood the moon
    Shone through a broken cloud.                                                                                  120
And near them they beheld a child,
    Upon a crag he stood,
A little crag, and all around
    Was spread the rising flood.
The boatman plied the oar, the boat                                                                              125
    Approach'd his resting place,
The moon-beam shone upon the child
    And show'd how pale his face.
"Now reach thine hand!" the boatman cried,
    Lord William reach and save!"                                                                                    130
The child stretch'd forth his little hands,
    To grasp the hand he gave.
Then William shriek'd; the hand he touch'd
    Was cold, and damp, and dead!
He felt young Edmund in his arms,                                                                               135
    A heavier weight than lead.
The boat sunk down, the murderer sunk
    Beneath the avenging stream;
He rose, he scream'd!—no human ear
    Heard William's drowning scream.                                                                            140
---
1.  First appearing anonymously in The Morning Post 16 March 1798; also published in Southey's Poems (1799). In a note to the latter, Southey relates that the idea for the poem was completely his own (Pratt 182), and in a letter to his friend and patron Charles Wynn (4 April 1798), he claims that this poem would "make the best of my Ballads" (C. C. Southey, 1: 329).
---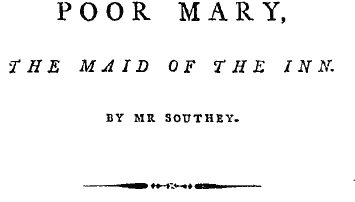 WHO is she, the poor Maniac, whose wildly-fix'd eyes[1]
    Seem a heart overcharg'd to express?
She weeps not, yet often and deeply she sighs;
She never complains, but her silence implies
    The composure of settled distress.                                                                 5
No aid, no compassion, the maniac will seek,
    Cold and hunger awake not her care:                                           
Thro' her rags do the winds of the winter blow bleak
On her poor wither'd bosom half bare, and her cheek
    Has the deathly pale hue of despair.                                                               10
Yet cheerful and happy, nor distant the day,
    Poor Mary the maniac has been;
The traveller remembers who journey'd this way,
No damsel so lovely, no damsel so gay,
    As Mary the Maid of the Inn.                                                                          15
Her cheerful address fill'd the guests with delight,
    As she welcom'd them in with a smile:
Her heart was a stranger to childish affright,
And Mary would walk by the Abbey at night,
    When the wind whistled down the dark aisle.                                           20
She lov'd; and young Richard had settled the day,
    And she hop'd to be happy for life;
But Richard was idle and worthless, and they
Who knew him would pity poor Mary, and say,
    That she was too good for his wife.                                                               25
'Twas in Autumn, and stormy and dark was the night,
    And fast were the windows and door;
Two guests sat enjoying the fire that burnt bright,
And smoking in silence with tranquil delight,
    They listen'd to hear the wind roar.                                                              30
"'Tis pleasant," cried one, seated by the fire-side,
    "To hear the wind whistle without."
"A fine night for the Abbey!" his comrade replied,
"Methinks a man's courage might now be well tried,
    Who should wander the ruins about.                                                            35
"I myself like a school-boy, should tremble to hear
    The hoarse ivy shake over my head;
And could fancy I saw, half persuaded by fear,
Some ugly old Abbot's white spirit appear,
    For this wind might awaken the dead!"                                                       40
"I'll wager a dinner," the other one cried,
    "That Mary would venture there now."
"Then wager and lose!" with a sneer he replied,
"I'll warrant she'd fancy a ghost by her side,
    And faint if she saw a white cow."                                                                 45
"Will Mary this charge on her courage allow?"
    His companion exclaim'd with a smile;
"I shall win, for I know she will venture there now,
And earn a New Bonnet by bringing a Bough,
    From the Elder that grows in the aisle."                                                       50
With fearless good humour did Mary comply,
    And her way to the Abbey she bent;
The night it was dark, and the wind it was high,
And as hollowly howling it swept through the sky,
    She shiver'd with cold as she went.                                                               55
O'er the path so well known still proceeded the Maid,
    Where the Abbey rose dim on the sight;
Thro' the gate-way she enter'd, she felt not afraid,
Yet the ruins were lonely and wild, and their shade
    Seem'd to deepen the gloom of the night.                                                    60
All around her was silent, save when the rude blast
    Howl'd dismally round the old pile;
Over weed-cover'd fragments still fearless she past,
And arriv'd in the innermost ruin at last,
    Where the Elder-tree grew in the aisle.                                                         65
Well-pleas'd did she reach it, and quickly drew near,
    And hastily gather'd the Bough:
When the sound of a voice seem'd to rise on her ear—
She paus'd, and she listen'd, all eager to hear,
    And her heart panted fearfully now!                                                             70
The wind blew, the hoarse ivy shook over her head:
    She listen'd,—nought else could she hear.
The wind ceas'd, her heart sunk in her bosom with dread,
For she heard in the ruins distinctly the tread
    Of footsteps approaching her near.                                                                75
Behind a wide column, half breathless with fear,
    She crept to conceal herself there:
That instant the Moon o'er a dark cloud shone clear,
And she saw in the Moon-light two ruffians appear,
    And between them a CORPSE did they bear!                                             80
Then Mary could feel her heart-blood curdled cold!
    Again the rough wind hurried by,—
It blew off the Hat of the one, and behold!
Even close to the feet of poor Mary it roll'd—
    She felt[2]—and expected to die.                                                                     85
"Curse the Hat! (he exclaims) nay, come on, and first hide
    The dead body," his comrade replies.
She beheld them in safety pass on by her side,
She seizes the Hat, fear her courage supplied,
    And fast through the Abbey she flies.                                                           90
She ran with wild speed, she rush'd in at the door,
    She gaz'd horribly eager around,
Then her limbs could support their faint burden no more,
And exhausted and breathless she sunk on the floor,
    Unable to utter a sound.                                                                                   95
Ere yet her pale lips could the story impart,
    For a moment the HAT met her view;
Her eyes from that object convulsively start,
For, O God! what cold horror then thrill'd thro' her heart,
    When the name of her Richard she knew!                                                    100
Where the old Abbey stands, on the common hard by,
    HIS GIBBET IS NOW TO BE SEEN.
Not far from the road it engages the eye,
The traveller beholds it, and thinks with a sigh
    Of poor Mary the Maid of the Inn.                                                                 105
---
1. This poem first appears in Southey's Poems (1797) with the following note: "The story of the following ballad was related to me, when a school boy, as a fact which had really happened in the North of England. I have adopted the metre of Mr. Lewis's Alonzo and Imogene—a poem deservedly popular."  Southey would have learned of Lewis's use of anapestic meter from the appearance of "Alonzo" in the first edition of The Monk.  In a letter from December of 1809, Southey identifies the source for the poem and expresses his opinion about its great popularity:
They have made a melo-drama of "Mary the Maid of the Inn," at one of the Strand theatres. Did I ever tell you that the story is in Plott's "Staffordshire?" [Robert Plott's The Natural History of Stafford-shire (1686).] The scene of it was the Black Meer of Morridge, near Leek; the chief personage a man, and the murder not discovered, but prevented. If you have the book, you will find it on page 291. I verily believe that at least half my reputation is owing to that paltry ballad, which is bad enough to spoil a very fine story. The strolling players recite it here about the country (Warter 2. 181).
Mary Jacobus argues that "Mary" may also draw upon Bürger's  "Des Pfarrers Tochter von Taubenheim," which had appeared in translation in the Monthly Magazine in April 1796 (217).
            To view a broadside version of this popular ballad, visit the National Library of Scotland's The Word on the Street. To view a series of engravings for the poem, go to the Disability History Museum's Collection.
2. The copy from Southey's Poems (1797) supplies a more likely reading: "She fell."
---
EARL WALTER winds his bugle horn;[1]
    To horse, to horse, halloo, halloo!
His fiery courser snuffs the morn,
    And thronging serfs their Lord pursue.
The eager pack, from couples freed,                                                                  5
    Dash through the bush, the brier, the brake;
While answering hound, and horn, and steed,
    The mountain echoes startling wake.
The beams of God's own hallow'd day
    Had painted yonder spire with gold,                                                             10
And, calling sinful man to pray,
    Loud, long, and deep the bell had toll'd.
But still the Wildgrave onward rides;
    Halloo, halloo, and hark again!
When, spurring from opposing sides,                                                               15
    Two stranger horsemen join the train.
Who was each stranger, left and right,
    Well may I guess, but dare not tell:
The right-hand steed was silver white,
    The left, the swarthy hue of hell.                                                                    20
The right-hand horseman, young and fair,
    His smile was like the morn of May;
The left, from eye of tawny glare,
    Shot lightning's lurid ray.
He wav'd his huntsman's cap on high,                                                              25
    Cry'd, "Welcome, welcome, noble Lord!
What sport can earth, or sea, or sky,
    To match the princely chase, afford?"
"Cease thy loud bugle's clanging knell,"
    Cried the fair youth, with silver voice;                                                          30
"And for devotion's choral swell,
    Exchange the rude unhallow'd noise.
"To-day th' ill omen'd chase forbear;
    Yon bell yet summons to the fane:
To-day the warning spirit hear,                                                                          35
    To-morrow thou may'st mourn in vain."
"Away, and sweep the glades along!"
    The sable hunter hoarse replies;
"To muttering monks leave matin song,
    And bells, and books, and mysteries."                                                          40
The Wildgrave spurr'd his ardent steed,
    And, launching forward with a bound,
"Who for thy drowsy priestlike rede
    Would leave the jovial horn and hound?
"No! pious fool, I scorn thy lore;                                                                         45
    Let him who ne'er the chase durst approve,
Go join with thee the droning choir,
    And leave me to the sport I love."
    O'er moss and moor, o'er holt and hill,                                                         50
And onward fast on either side,      
    The stranger horsemen follow'd still.
Up springs, from yonder tangled thorn,
    A stag more white than mountain snow;
And louder rung the Wildgrave's horn,                                                            55
    "Hark forward, forward, holla, ho!"
A heedless wretch has cross'd the way,—
    He gasps the thundering hoofs below;
But, live who can, or die who may,
    Still forward, forward! On they go.                                                               60
See where yon simple fences meet,
    A field with autumn's blessings crown'd;
See, prostrate at the Wildgrave's feet,
    A husbandman with toil embrown'd.
"O mercy! mercy! noble Lord;                                                                             65
    Spare the poor's pittance," was his cry,
"Earn'd by the sweat these brows have pour'd
    In scorching hour of fierce July."
Earnest the right-hand stranger pleads,
    The left still cheering to the prey:                                                                  70
The impetuous Earl no warning heeds,
    But furious holds the onward way.
"Away, thou hound, so basely born,
    Or dread the scourge's echoing blow!"
Then loudly ring his bugle-horn,                                                                       75
    "Hark forward, forward, holla ho!"
So said, so done—a single bound
    Clears the poor labourer's humble pale:
Wild follows man, and horse, and hound,
    Like dark December's stormy gale.                                                                80
And man, and horse, and hound, and horn,
    Destructive sweep the field along,
While joying o'er the wasted corn
    Fell Famine marks the madd'ning throng.
Again up roused, the timorous prey                                                                  85
    Scours moss and moor, and holt and hill;
Hard run, he feels his strength decay,
    And trusts for life his simple skill.
Too dangerous solitude appear'd;
    He seeks the shelter of the crowd;                                                                  90
Amid the flock's domestic herd
    His harmless head he hopes to shroud.
O'er moss and moor, and holt and hill,
    His track the steady blood-hounds trace;
O'er moss and moor, unwearied still,                                                                95
    The furious Earl pursues the chase.
Full lowly did the herdsman fall;
    "O spare, thou noble Baron, spare
These herds, a widow's little all;
    These flocks, an orphan's fleecy care."                                                          100
Earnest the right-hand stranger pleads,
    The left still cheering to the prey;
The Earl nor prayer nor pity heeds,
    But furious keeps the onward way.
"Unmanner'd dog!  To stop my sport                                                                105
    Vain were thy cant and beggar whine,
Though human spirits of thy sort
    Were tenants of these carrion kine!"
Again he winds his bugle horn,
    "Hark forward, forward, holla, ho!"                                                              110
And through the herd, in ruthless scorn,
    He cheers his furious hounds to go.
In heaps the throttled victims fall;
    Down sinks their mangled herdsman near;
The murd'rous cries the stag appal,                                                                   115
    Again he starts, new-nerv'd by fear.
With blood besmear'd, and white with foam,
    While big the tears of anguish pour,
He seeks, amid the forest's gloom,
    The humble hermit's hut obscure.                                                                 120
But man and horse, and horn and hound,
    Fast rattling on his traces go;
The sacred chapel rung around
    With hark away, and holla, ho!
All mild, amid the route profane,                                                                       125
    The holy hermit pour'd his prayer:
"Forbear with blood God's house to stain;
    Revere his altar, and forbear!
"The meanest brute has rights to plead,
    Which, wrong'd by cruelty, or pride,                                                             130
Draw vengeance on the ruthless head;—
    Be warn'd at length, and turn aside."
Still the fair horseman anxious pleads,
    The black, wild whooping, points the prey;
Alas! the Earl no warning heeds,                                                                        135
    But frantic keeps the forward way.
"Holy or not, or right or wrong,
    Thy altar and its rights I spurn;
Not sainted martyrs' sacred song,
    Not God himself, shall make me turn."                                                        140
He spurs his horse, he winds his horn,
    "Hark forward, forward, holla, ho!"
But off, on whirlwinds's pinions borne,
    The stag, the hut, the hermit, go.
And horse and man, and horn and hound,                                                      145
    And clamour of the chase was gone:
For hoofs and howls, and bugle sound,
    A deadly silence reign'd alone.
Wild gazed the affrighted Earl around;—
    He strove in vain to wake his horn,                                                               150
In vain to call; for not a sound
    Could from his anxious lips be borne.
He listens for his trusty hounds;
    No distant baying reach'd his ears;
His courser, rooted to the ground,                                                                     155
    The quickening spur unmindful bears.
Still dark and darker round it spreads,
    Dark as the darkness of the grave;
And not a sound the still invades,
    Save what a distant torrent gave.                                                                   160
High o'er the sinner's humbled head
     At length the solemn silence broke;
And from a cloud of swarthy red,
    The awful voice of thunder spoke.
"Oppressor of creation fair!                                                                                 165
    Apostate spirit's harden'd tool!
Scorner of God! scourge of the poor!
    The measure of thy cup is full.
"Be chased for ever through the wood,
    For ever roam the affrighted wild;                                                                 170
And let thy fate instruct the proud,
    God's meanest creature is his child."


'Twas hush'd: one flash of sombre glare
    With yellow tinged the forests brown;
Up rose the Wildgrave's bristling hair,                                                             175
    And horror chill'd each nerve and bone.
Cold pour'd the sweat in freezing rill;
    A rising wind began to sing;
And louder, louder, louder still,
    Brought storm and tempest on its wing.                                                      180
The earth is rock'd, it quakes, it rends;
    From yawning rifts, with many a yell,
Mix'd with sulphureous flames, ascend
    The misbegotten dogs of hell.
What ghastly huntsman next arose,                                                                   185
    Well may I guess, but dare not tell:
His eye like lightning glows,
    His steed the swarthy hue of hell.
The Wildgrave flies o'er bush and thorn,
    With many a shriek of helpless woe;                                                             190
Behind him hound, and horse, and horn,
    And hark away, and holla, ho!
With wild despair's reverted eye,
    Close, close behind, he marks the throng;
With bloody fangs, and eager cry,                                                                      195
    In frantic fear he scours along.
Still, still shall last the dreadful chase,
    Till time itself shall have an end;
By day, they scour earth's cavern'd space,
    At 's witching hour, ascend.                                                           200
This is the horn, and hound, and horse,
    That oft the lated peasant hears:
Appall'd, he signs the frequent cross,
    When the wild din invades his ears.
The wakeful priest oft drops a tear                                                                    205
    For human pride, for human woe,
When, at his midnight mass, he hears
               The infernal cry of holla, ho! [3]
 1. In the head-note to this poem from Tales of Wonder, in which the ballad is entitled "The Wild Huntsman," Lewis supplies the following information: "The tradition of the 'Wild Huntsmen' (Die Wilde Jager) is a popular superstition, very generally believed by the peasants of Germany. Whoever wishes for more information respecting these imaginary Sportsmen, will find his curiosity fully satisfied, by perusing the first Volume of the German Romance of 'the Necromancer;' (Der Geister-banner).  The original of this Ballad is by Bürger, Author of the well-known 'Leonora.'" The full title of the source that Lewis cites is Der Geisterbanner: Eine Wundergeschichte aus mündlichen und schriftlichen Traditionen gesammelt [The Spectral Banner:  A Wondrous Tale Collected from Oral and Written Traditions] (1792) by Lorenz Flammenburg [pseudonym of Karl Friedrich Kahlert (1765-1813)]. English translation by Peter Teuthold as The Necromancer; or, The Tale of the Black Forest: Founded on Facts (1794).
2. Image taken from the website web eremitage.
3. This poem, Scott's translation of Bürger's "Die Wilde Jäger" ["The Wild Chase"], and "William and Helen" comprise his first publication, in a "thin quarto," by Manners and Miller of Edinburgh (1796). In an undated letter to Scott which he included in an appendix to his "Essay on Imitations of the Ancient Ballad," Lewis makes a number of suggested revisions to the poem, primarily concerning its rhyme, all of which Scott accepted in preparing the poem for its appearance in Tales of Wonder (these changes are listed below in the textual variants).  In Scott's numerous editions of his poetry, all subsequent printings of this poem, with the new title "The Wild Huntsman," accept Lewis's revisions. The subject of "Die Wilde Jäger" also caught the interest of William Wordsworth, who offers a decidedly revisionist version of the poem in his "Hart-leap Well" (Lyrical Ballads of 1800), in which the death of the deer calls forth the "sympathy divine" (164) of Nature.  Also see his 1807 sonnet, "Though narrow be that old Man's cares," and its use of the "superstition" of "Gabriel's Hounds, / Doomed, with their impious Lord, the flying hart / To chase for ever, on aerial grounds" (12-14); in a note to the poem Wordsworth references Bürger's "Ballad of the Wild Huntsman." A "Chase," a failed one, also begins Scott's famed The Lady of the Lake; A Poem (1810.)
----------------------------------------------------------------------------
Textual Variants: in an appendix to his "Essay on Imitations of the Ancient Ballad," Scott includes correspondence from Lewis calling for revision of the ballads Scott submitted for inclusion in Tales of Wonder. See the below for the revisions made by Scott for this ballad as it appears in Tales of Wonder.
"Hence, if our manly sport offend:                                                                
    With pious fools go chaunt and pray;                                    
Well hast thou spoke, my dark-brow'd friend,
    Halloo! halloo! and hark away!"
The Wildgrave spurr'd his courser light,
    O'er moss and moor, o'er holt and hill,                                                    
And on the left, and on the right,
    Each stranger horseman follow'd still.
120 [1801 Tales of Wonder]: The humble hermit's hallow'd bour.
157 [1801 Tales of Wonder]: Still dark and darker frown the shades,
181 [1801 Tales of Wonder]: Earth heard the call—her entrails rend;
---

FROM heavy dreams fair Helen rose,[1]
    And ey'd the dawning red:
"Alas, my love, thou tarriest long!
    O art thou false or dead?"
With gallant Fred'rick's princely power                                                              5
    He sought the bold crusade;
But not a word from Judah's wars
    Told Helen how he sped.
With Paynim and with Saracen
    At length a truce was made,                                                                               10
And ev'ry knight return'd to dry
    The tears his love had shed. 
Our gallant host was homeward bound
    With many a song of joy;
Green wav'd the laurel in each plume,                                                                15
    The badge of victory.
And old and young, and sire and son,
    To meet them crowd the way,
With shouts, and mirth, and melody,
    The debt of love to pay.                                                                                        20
Full many a maid her true-love met,
    And sobb'd in his embrace,
And flutt'ring joy in tears and smiles
    Array'd full many a face.
Nor joy nor smile for Helen sad;                                                                            25
    She sought the host in vain;
For none could tell her William's fate, 
    If faithless, or if slain. 
The martial band is past and gone; 
    She rends her raven hair,                                                                                   30
And in distraction's bitter mood   
    She weeps with wild despair.   
"O! rise my child," her mother said,
     "Nor sorrow thus in vain;
A perjur'd lover's fleeting heart                                                                             35
    No tears recall again."  
"O mother, what is gone, is gone,  
    What's lost, for ever lorn:   
Death, death alone can comfort me;   
    O had I ne'er been born!                                                                                     40
"O break, my heart, O break at once!
    Drink my life-blood despair!
No joy remains on earth for me,
    For me in heaven no share."
"O enter not in judgment, Lord!"                                                                          45
    The pious mother prays;
"Impute not guilt to thy frail child!
    She knows not what she says.
"O say thy pater noster child!
    O turn to God and grace!                                                                                    50
His will that turn'd thy bliss to bale
    Can change thy bale to bliss."
"O mother, mother! What is bliss? 
    O mother, what is bale?
My William's love was heaven on earth,                                                             55
    Without it earth is hell.
"Why should I pray to ruthless heav'n
    Since my lov'd William's slain?
I only pray'd for William's sake,
    And all my pray'rs were vain."                                                                         60
"O take the sacrament, my child,
    And check these tears that flow;
By resignation's humble pray'r,
    O hallow'd be thy woe!"
"No sacrament can quench this fire,                                                                     65
    Or slake this scorching pain:
No sacrament can bid the dead
    Arise and live again.
"O break, my heart, O break at once!
    Be thou my god, Despair!                                                                                    70
Heav'n's heaviest blow has fall'n on me,
    An vain each fruitless pray'r."
"O enter not in judgment, Lord,
    With thy frail child of clay!
She knows not what her tongue has spoke;                                                        75
    Impute it not, I pray!
"Forbear, my child, this desp'rate woe,
    And turn to God and grace;
Well can devotion's heav'nly glow
    Convert thy bale to bliss."                                                                                  80
"O mother, mother, what is bliss?
    O mother, what is bale?
Without my William, what were heav'n,
    Or with him, what were hell!"
Wild she arraigns th' eternal doom,                                                                      85
    Upbraids each sacred pow'r,
Till spent, she sought her silent room,
    All in the lonely tower.
She beat her breast, she wrung her hands,
    Till sun and day were o'er,                                                                                 90
And through the glimm'ring lattice shone
    The twinkling of the star.
Then, crash! the heavy draw-bridge fell,
    That o'er the moat was hung;
And clatter! clatter! on its boards                                                                           95
    The hoof of courser rung.
The clank of echoing steel was heard,
    As off the rider bounded;
And slowly on the winding stair,
    A heavy footstep sounded.                                                                                  100
And hark! and hark! a knock—Tap! tap!
    A rustling stifled noise;
Door latch and tinkling staples ring—
    At length a whisp'ring voice.
"Awake, awake, arise, my love!                                                                             105
    How, Helen, dost thou fare?
Wak'st thou, or sleep'st? laugh'st thou, or weep'st?
    Hast thought on me my fair?"
"My love! my love!—so late by night!—
    I wak'd, I wept for thee:                                                                                      110
Much have I borne since dawn of morn;—
    Where, William, could'st thou be?"
"We saddled late—From Hungary
    I rode since darkness fell;
And to its bourne we both return,                                                                        115
    Before the matin bell."
"O rest this night within my arms,
    And warm thee in their fold!
Chill howls through hawthorn bush the wind;—
    My love is deadly cold."                                                                                      120
"Let the wind howl through hawthorn bush!
    This night we must away;
The steed is wight, the spur is bright,
    I cannot stay till day.
"Busk, busk, and boune! Thou mount'st behind                                                125
    Upon my black barb steed:
O'er stock and stile, a hundred miles,
    We haste to bridal bed."
"To-night—to-night a hundred miles?
    O dearest William, stay!                                                                                      130
The bell strikes twelve—dark, dismal hour!
    O wait, my love, till day!"
"Look here, look here—the moon shines clear—
    Full fast I ween we ride;
Mount and away! for ere the day,                                                                         135
    We reach our bridal bed.
"The black barb snorts, the bridle rings;
    Haste, busk, and boune, and seat thee!
The feast is made, the chamber spread,
    The bridal guests await thee."                                                                           140
Strong love prevail'd:  She busks, she bounes,
    She mounts the barb behind,
And round her darling William's waist
    Her lily arms she twin'd.
And, hurry! hurry! off they rode,                                                                          145
    As fast as fast might be;
Spurn'd from the courser's thundering heels
    The flashing pebbles flee.
And on the right, and on the left,
    Ere they could snatch a view,                                                                            150
Fast, fast, each mountain, mead, and plain,
    And cot and castle flew.
"Sit fast—dost fear?— The moon shines clear—
    Fleet rides my barb—keep hold!
Fear'st thou?" "O no!" she faintly said;                                                                155
     "But why so stern and cold?
"What yonder rings? what yonder sings?
    Why shrieks the owlet grey?"
"'Tis death-bells clang, 'tis funeral song,
    The body to the clay.                                                                                            160
"With song and clang, at morrow's dawn,
    Ye may inter the dead:
To-night I ride, with my young bride,
    To deck our bridal bed.
"Come with thy choir, thou coffin'd guest,                                                          165
    To swell our nuptial song!
Come priest, to bless our marriage feast!
    Come all, come all along!"
Ceas'd clang and song; down sunk the bier;
    The shrouded corpse arose:                                                                                170
And hurry! hurry! all the train
    The thund'ring steed pursues.
And, forward! forward! on they go;
    High snorts the straining steed;
Thick pants the rider's labouring breath,                                                            175
    As headlong on they speed.
"O William, why this savage haste?
    And where thy bridal bed?"
"'Tis distant far." "Still short and stern?"
    "'Tis narrow, trustless maid."                                                                           180
"No room for me?" "Enough for both;—
    Speed, speed, my barb, thy course."
O'er thund'ring bridge, through boiling surge
    He drove the furious horse.
Tramp! tramp! along the land they rode;                                                              185
    Splash! splash! along the sea;[2]
The steed is wight, the spur is bright,
    The flashing pebbles flee.
Fled past on right and left how fast
    Each forest, grove and bower;                                                                            190
On right and left fled past how fast
    Each city, town and tower.
"Dost fear? dost fear?—The moon shines clear;
    Dost fear to ride with me?—
Hurrah! hurrah! The dead can ride!"                                                                   195
     "O William let them be!
"See there, see there! What yonder swings
    And creaks 'mid whistling rain?"
"Gibbet and steel, th' accursed wheel;
    A murd'rer in his chain.                                                                                     200
"Hollo! thou felon, follow here:
    To bridal bed we ride;
And thou shalt prance a fetter dance
    Before me and my bride."
And hurry, hurry! clash, clash, clash!                                                                 205
    The wasted form descends;
And fleet as wind through hazel bush
    The wild career attends.
Tramp! tramp! along the land they rode,
    Splash! splash! along the sea;                                                                             210
The scourge is red, the spur drops blood,
    The flashing pebbles flee.
How fled what moonshine faintly show'd!
    How fled what darkness hid!
How fled the earth beneath their feet,                                                                   215
    The heav'ns above their head!
"Dost fear? dost fear? The moon shines clear,
    And well the dead can ride!
Does faithful Helen fear for them?"
    "O leave in peace the dead!"                                                                               220
"Barb! Barb! methinks I hear the cock:
    The sand will soon be run:
Barb! Barb! I smell the morning air;
    The race is well nigh done."
Tramp! tramp! along the land they rode,                                                              225
    Splash! splash! along the sea;
The scourge is red, the spur drops blood,
    The flashing pebbles flee.
"Hurrah! hurrah! well ride the dead;
    The bride, the bride is come!                                                                               230
And soon we reach the bridal bed,
    For, Helen, here's my home."
Reluctant on its rusty hinge
    Revolv'd an iron door,
And by the pale moon's setting beam                                                                    235
    Were seen a church and tow'r.
With many a shriek and cry whiz round
    The birds of midnight, scared;
And rustling like autumnal leaves
    Unhallow'd ghosts were heard.                                                                         240
O'er many a tomb and tomb-stone pale
    He spurr'd the fiery horse,
Till sudden at an open grave
    He check'd the wond'rous course.
The falling gauntlet quits the rein,                                                                        245
    Down drops the casque of steel,
The cuirass[3] leaves his shrinking side,
    The spur his gory heel.
The eyes desert the naked skull,
    The mould'ring flesh the bone,                                                                          250
Till Helen's lily arms entwine
    A ghastly skeleton!
The furious barb snorts fire and foam,
    And with a fearful bound,
Dissolves at once in empty air,                                                                               255
    And leaves her on the ground.
Half seen by fits, by fits half heard,
    Pale spectres flit along;
Wheel round the main in dismal dance,
    And howl the fun'ral song;                                                                                260
"E'en when the heart's with anguish cleft,
    Revere the doom of Heav'n!
Her soul is from her body reft;
    Her spirit be forgiv'n!"
---
1. Scott tells the story of this poem's composition in his "Essay." First hearing about the commotion made by Anna Lætitia Barbauld's reading of William Taylor's translation of Bürger's "Lenora" before an Edinburgh literary society, Scott went about obtaining a copy of the German original and other German ballads and began translating them.  He first completed this translation of "Lenora," then of Bürger's  "Der Wilde Jäger," originally entitled "The Chase," but later "The Wild Huntsman" (see Tales of Wonder #23).  These two poems were printed in a "thin quarto" by Mundell and Son for Manners and Miller of Edinburgh, Scott's first publication in 1796.  Yet beside the enthusiastic reception by his growing circle of literary friends, the thin volume, Scott tells us, "sunk unnoticed" (41), in part, Scott believed, because of the number of competing Lenora-translations published that year, pre-eminently Taylor's.  Although for Tales of Wonder Lewis will prefer Taylor's translation of Bürger's "Lenore" to Scott's, he offered an extensive criticism of its rhyme and diction—what Lewis called a "severe examination"—in a letter to Scott, which Scott includes as an appendix to his "Essay" (55-56).
---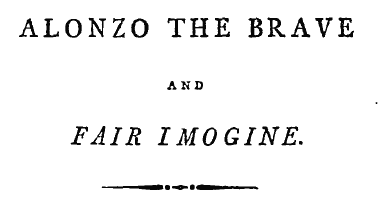 A WARRIOR so bold and a virgin so bright[1]  
    Conversed, as they sat on the green; 
They gazed on each other with tender delight:
Alonzo the Brave was the name of the Knight,
    The maid's was the Fair Imogine.                                                                                  5
"And, oh!" said the youth, "since to-morrow I go   
    To fight in a far-distant land,   
Your tears for my absence soon leaving to flow, 
Some other will court you, and you will bestow   
    On a wealthier suitor your hand."                                                                               10
"Oh! hush these suspicions," Fair Imogine said,   
    "Offensive to love and to me! 
For if you be living, or if you be dead, 
I swear by the Virgin, that none in your stead   
    Shall husband of Imogine be.                                                                                         15
"And if e'er for another my heart should decide,
    Forgetting Alonzo the Brave, [2]
God grant, that, to punish my falsehood and pride,
Your ghost at the marriage may sit by my side,
May tax me with perjury, claim me as bride,                                                                  20
    And bear me away to the grave!"[3]                             
To Palestine hasten'd the hero so bold;   
    His love, she lamented him sore: 
But scarce had a twelvemonth elapsed, when behold,  
A Baron all cover'd with jewels and gold                                                                        25
    Arrived at Fair Imogine's door. 
His treasure, his presents, his spacious domain,   
    Soon made her untrue to her vows: 
He dazzled her eyes; he bewilder'd her brain; 
He caught her affections so light and so vain,                                                                 30
    And carried her home as his spouse.
And now had the marriage been bless'd by the priest;   
    The revelry now was begun: 
The tables they groan'd with the weight of the feast; 
Nor yet had the laughter and merriment ceased,                                                            35
    When the bell of the castle told—"one!'" [4]
Then first with amazement Fair Imogine found
    That a stranger was placed by her side:
His air was terrific; he utter'd no sound;
He spoke not, he moved not, he look'd not around,                                                        40
    But earnestly gazed on the bride.         
His vizor was closed, and gigantic his height;   
    His armour was sable to view: 
All pleasure and laughter were hush'd at his sight; 
The dogs, as they eyed him, drew back in affright;                                                        45   
    The lights in the chamber burnt blue! [5]
His presence all bosoms appear'd to dismay;   
    The guests sat in silence and fear:
At length spoke the bride, while she trembled: "I pray,
Sir Knight, that your helmet aside you would lay,                                                        50
    And deign to partake of our cheer."                 
The lady is silent: the stranger complies,   
    His vizor he slowly unclosed: 
Oh! God! [6] what a sight met Fair Imogine's eyes!
What words can express her dismay and surprise,                                                        55  
    When a skeleton's head was exposed! [7]                                             
All present then utter'd a terrified shout;   
    All turn'd with disgust from the scene. 
The worms they crept in, and the worms they crept out,
And sported his eyes and his temples about,                                                                   60
    While the spectre address'd Imogine.                                                   
"Behold me, thou false one! behold me!" he cried;   
    "Remember Alonzo the Brave! 
God grants, that, to punish thy falsehood and pride, 
My ghost at thy marriage should sit by thy side,                                                            65 
Should tax thee with perjury, claim thee as bride,   
    And bear thee away to the grave!"                                                       
Thus saying, his arms round the lady he wound,   
    While loudly she shriek'd in dismay; 
Then sank with his prey through the wide-yawning ground:                                    70
Nor ever again was Fair Imogine found,  
    Or the spectre who bore her away.                                                      
Not long lived the Baron: and none since that time   
    To inhabit the castle presume;                                                  
For chronicles tell, that, by order sublime,                                                                      75
There Imogine suffers the pain of her crime,   
    And mourns her deplorable doom.                                                       
At midnight four times in each year does her sprite,   
    When mortals in slumber are bound,                                      
Array'd in her bridal apparel of white,                                                                            80
Appear in the hall with the skeleton-knight,  
    And shriek as he whirls her around.                                                  
While they drink out of skulls newly torn from the grave,  
    Dancing round them pale spectres are seen:                                         
Their liquor is blood, and this horrible stave                                                                  85
They howl: "To the health of Alonzo the Brave,   
    And his consort the False Imogine!"
---
1. In this line Lewis introduces, after an initial iamb, the pulsing anapestic rhythm that animates his ballad:  
x

    

\

     

x

     

x

    

\

      

x

   

x

  

\

   

x

   

x

      

\
A Warrior so bold and a virgin so bright

  
Several other late nineteenth-century ballad writers admired and imitated this novel meter (see Southey's "Poor Mary, The Maid of the Inn"); Coleridge was less impressed, noting the "effect [was] not unlike that of galloping over a paved road in a German stage-waggon without springs" (Chapter 16 of Biographia Literaria 2. 33-34).
   The most famous of the nine poems in first edition of The Monk (1796), "Alonzo the Brave" furnishes the persecuted Antonia's anxious night-time reading just before she falls into the clutches of the scheming Matilda and the lecherous Ambrosio (271-273). In the words of Parreaux, the ballad "took England by storm" (50), appearing no less than ten times before the end of 1797 in such periodicals as The Morning Chronicle, The Star, and The Gentleman's Magazine. Further evidence of the ballad's great popularity can be found in the "long and flourishing career" at Sadler's Wells Theatre of an "Heroic Pantomime Ballet" entitled Alonzo and Imogen; or The Spectral Bride (Parreaux 63).
2.  The fourth edition of The Monk reads "And if e'er for another my heart should decide, / Forgetting . . ."  This and the other two variants (see notes #4 and #6) indicate that Scott and Ballantyne were working from a copy of the poem from one of the first three editions of the novel.
4. The fourth edition of The Monk reads "tolled."
5. Dogs howling and blue flames are time-honored Gothic indicators of the preternatural.
6. The fourth edition of The Monk reads "then" instead of "God!" These are small matters, but note how in this revision and the one recorded in note #2 (wherein Lewis eliminates "lust" as a motive of Imogine's betrayal) Lewis responds to the two most frequent charges leveled by critics at his novel: its indecency and blasphemy.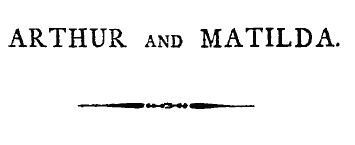 BRIGHT shone the stars, the moon was sunk,[1]
    And gently blew the breeze,
As homeward bound the stately ship
    Rode o'er the Indian seas.
High on the poop, in lonely watch,                                                                                   5
    Young Arthur pensive stood,
And eyed the quiv'ring light of Heav'n
    Reflected in the flood.
But many and many a league his thoughts
    O'er land and water roam;                                                                                             10
They fly to Britain's distant isle,
    To dear Matilda's home.
His busy fancy paints the Fair
    Array'd in all her charms;
He tastes the kiss of sweet return,                                                                                     15
    And folds her in his arms.
Till waken'd from his rapturous dream,
    He hears the flapping sails,
And chides, with fond impatience stung,
    The tardy-winged gales.                                                                                                  20
"O waft me some kind pow'r," he cried,
    "With speed to Britain's shore;
Placed by the side of her I love,
    I'd ask of Fate no more!
"Blow, blow ye slumbering winds! ye sails,                                                                   25
    Catch every fleeting breath;
The stormy blast with danger swells,
    But this delay is death."
Then, as across the watery waste,
    He bent his cheerless eyes,                                                                                             30
From out the gloom a whitening form,
    Dim-seen, appear'd to rise.
Swift-gliding on the sight it grew;
    And now in prospect plain,
A little Boat was seen to come                                                                                            35
    Self-mov'd athwart the main.
And in the stern in glistering white,
    A maiden sat to guide;
Right to the ship she steer'd her course,
    And soon was at the side.                                                                                               40
Young Arthur, speechless with amaze,
    Beheld the wond'rous sight,
And seem'd a well-known face to view,
    That shone with paly light.
With beating heart and mind disturbed,                                                                          45
    He gazed upon the maid,
Who upward turn'd an eager look,
    And " Know'st me not?"  she said.
"O'er ocean wide, thro' dashing waves,
    Behold Matilda come,                                                                                                     50
To meet her Arthur on his way,
    And bear him to her home:
"A home unblest, forlorn, and dark,
    Whilst thou art absent still;                                               
A narrow house, but yet a place                                                                                        55
    Is left for thee to fill.
"Long, long enough, with bitter pangs,
    My faithful breast was torn;
Long, long enough in sad despair,
    I only liv'd to mourn:                                                                                                      60
"But now 'tis o'er!—Again we meet,
    But not again to part:
Come then, descend, embark with me,                                          
    And trust thy pilot's art.
"Ere star-light yields to morning-dawn,                                                                           65
    A thousand leagues we sail, 
I care not how the current runs,
    Or which way blows the gale."
"What may this mean!" With falt'ring voice,
    The trembling Arthur cried:                                                                                           70
"But if Matilda calls! I come,
    Whatever may betide."
Then o'er the ship's tall side he sprung,
    His promis'd bride to meet;                                             
She drew beneath her little boat,                                                                                       75
    To stay his tottering feet.
"Now touch me not! but distant sit,
    And trim the boat with heed."
The youth obey'd; she turn'd the helm;
    The vessel flew with speed.                                                                                            80
"How pale and wan thy face, my love!
    How sunk and dead thine eyes!
And sure some corpse's winding-sheet
    Thy cloak and hood supplies!"
"My face may well be pale, my love!                                                                                 85
    The night is dank and cold;
And closer than a winding sheet,
    What garment can enfold?"
No more could Arthur speak; for fear
    And wonder froze his blood:                                                                                          90
He wildly eyed Matilda now,
    And now the foaming flood.
In awful silence, all the night,
    They bounded o'er the tide;
The boat ran rippling thro' the brine,                                                                               95
    That foam'd on either side.
At length the stars began to fade,
    Down in the western sky,
When dim the land appear'd in view,
    With cliffs o'erhung on high.                                                                                         100
Straight for the shore the pilot maid
    Steer'd on her venturous bark,
Where rugged rocks, with hideous yawn,
    Disclos'd a cavern dark.
They enter:—Arthur shook with dread,                                                                           105
    And "Whither now?" he cried:
"Peace! peace! Our voyage is near its end,"
    Her echoing voice replied.
Within the bowels of the ground,
    They plung'd in blackest night;                                                                                     110
Yet still Matilda's ghastly form
    Was seen in blueish light.
The boat now touch'd the further shore,
    When straight uprose the maid:
"Now follow, youth!  My home is nigh."                                                                         115
    The shuddering youth obey'd.
A narrow winding path they take,
    Drops trickling over head:
He sees her light before him glide,
    But cannot hear her tread.                                                                                              120
At last, they come where mould'ring bones
    Lie strew'd in heaps around,
And opening vaults on either side
    Gape in the hollow ground:
And coffins, rang'd in sable rows,                                                                                    125
    By glimm'ring light appear;
Matilda stopt, and wav'd her hand,
    And said, "MY HOME IS HERE."[2]
"If thou Matilda house wilt share,
    Behold the narrow space;                                                                                               130
Then welcome youth! now truly mine,
    And take a bride's embrace!"
Young Arthur stretch'd his doubtful arms
    To meet the clasping maid;
When lo! instead of fleshly shape,                                                                                     135
    He grasp'd an empty shade!
The life-blood left his fluttering heart,
    Cold dews his face bespread,
Convulsive struggles shook his frame—                                                                                        
    And all the vision fled! [3]                                                                                               140
---
1. Scott took this ballad from John Aikin's Poems (1791), 31-41. Brother to Anna Lætitia Barbauld, physician, Unitarian, writer, and political reformer, John Aikin (1747-1822) occupies a minor but interesting place in the first Gothic revival. In 1773 he wrote with his sister "On the Pleasure Derived from Objects of Terror; with Sir Bertrand, a Fragment," an early attempt to distinguish and defend a high, literarily acceptable form of the literature of terror from its cruder presentations. Praising Horace Walpole's Castle of Otranto (1764) and establishing a line of literary terror from Classical writers down to Shakespeare, the Aikins argue that when "formed by a sublime and vigorous imagination," works of terror "elevate the soul to its highest pitch" (13). As editor of Monthly Magazine from 1796 to 1807, Aikin oversaw the publication of the poem that would prove foundational for the German ballad revival, Gottfried August Bürger's "Lenore," although, as his note to "Arthur and Matilda" attests, he knew of Taylor's translation years before then. Taylor was a student of Barbauld at her Palgrave, Suffolk boarding school, and her reading of his "Lenora" for an Edinburgh literary society in 1793 first sparked Scott's interest in German ballads. In his Historic Survey of German Poetry (1830), Taylor refers to Aikin's note as proof that his "Lenora" antedates the other versions of the poem published during the 1790's (2. 51).
2. In the version found in Aikin's Poems, there are no closing quotation marks after Matilda's dramatic announcement.
3. In a note from his Poems (1791) Aikin supplies the following information: "The idea of this piece was taken from a ballad translated by an ingenious friend from the German of Buirgher [sic]. The story and scenery are however totally different, and the resemblance only consists in a visionary journey." "Arthur and Matilda" is noteworthy in that it evokes Bürger's poetics of terror only to assign its presentation of otherworldly effects to a "visionary" or psychological cause. This use of the so-called "explained supernatural" became the favorite procedure of Ann Radcliffe, whose first novel to employ the technique, The Romance of the Forest, also appears in 1791. In his Letters from a Father to a Son (1793), Aikin reveals his interest in disordered psychological states in a passage that could well serve as a gloss on "Arthur and Matilda": "The mind strongly impressed with an image which has been haunting it during sleep, is scarcely able to dispel the phantom, whilst the violent emotion which rouses from sleep, still, in the midst of darkness and solitude, keeps possession of the feelings" (283). Aikin's poem is a minor literary work  with little discernible influence, as most imitators of the "ancient ballad" will prefer supernatural presentations of terror as more in keeping with their Germanic and folk inspirations. His use of the "explained supernatural" nevertheless anticipates a rich vein of psychological literary terror that will characterize later Gothic fiction.
O'ER mountains, through vallies, Sir Oluf he wends [1]
To bid to his wedding relations and friends;
'Tis night, and arriving where sports the elf band,
The Erl-King's proud daughter presents him her hand.
"Now welcome, Sir Oluf! oh! welcome to me!                                                             5
Come, enter our circle my partner to be."
"Fair lady, nor can I dance with you, nor may;
To-morrow I marry, to-night must away."
" Now listen, Sir Oluf! oh! listen to me!
Two spurs of fine silver thy guerdon[2] shall be;                                                       10
A shirt too of silk will I give as a boon,
Which my queen-mother bleach'd in the beams of the moon.
"Then yield thee, Sir Oluf! oh! yield thee to me!
And enter our circle my partner to be!"
"Fair lady, nor can I dance with you, nor may;                                                            15
To-morrow I marry, to-night must away."
"Now listen, Sir Oluf; oh! listen to me!
An helmet of gold will I give unto thee!"
" An helmet of gold would I willingly take,
" But I will not dance with you, for Urgela's sake."                                                   20
"And deigns not Sir Oluf my partner to be?
Then curses and sickness I give unto thee;
Then curses and sickness thy steps shall pursue:
Now ride to thy lady, thou lover so true."
Thus said she, and laid her charm'd hand on his heart;                                            25
Sir Oluf, he never had felt such a smart;
Swift spurr'd he his steed till he reach'd his own door,
And there stood his mother his castle before.
"Now riddle me, Oluf, and riddle me right:
Why look'st thou, my dearest, so wan and so white?"                                              30
"How should I not, mother, look wan and look white?
I have seen the Erl-King's cruel daughter to-night.
"She cursed me! her hand to my bosom she press'd;
Death follow'd the touch, and now freezes my breast!
She cursed me, and said, 'To your lady now ride;'                                                     35
Oh! ne'er shall my lips press the lips of my bride."
"Now riddle me, Oluf, and what shall I say,
When here comes the lady, so fair and so gay?"
"Oh! say, I am gone for awhile in to the wood,
To prove if my hounds and my coursers are good."                                                  40
Scarce dead was Sir Oluf, and scarce shone the day,
When in came the lady, so fair and so gay;
And in came her father, and in came each guest,
Whom the hapless Sir Oluf had bade to the feast.
They drank the red wine, and they ate the good cheer;                                            45
"Oh! where is Sir Oluf! oh, where is my dear?"
" Sir Oluf is gone for awhile to the wood,
To prove if his hounds and his coursers are good."
Sore trembled the lady, so fair and so gay;
She eyed the red curtain; she drew it away;                                                                50
But soon from her bosom for ever life fled,
For there lay Sir Oluf, cold, breathless, and dead.
---
1

. This Danish ballad first appeared in the Monthly Mirror 2 (October 1796): 371-373. 
In the copy from Tales of Wonder (1801), Lewis includes this headnote: "The original is to be found in the 
Kiampe-Viiser

, Copenhagen, 1739. My version of this Ballad (as also of most of the Danish Ballads in this 
collection) was made from a German translation to be found in Herder's Volkslieder." Kiampe-viise (or 
kæmpevise

) is a generic Danish term for the medieval folk ballad, and as there were innumerable 
collections of these in the eighteenth-century, it is hard to know the specific reference.

  

The closest one 
may be the anonymous Tvende lystige nye Kiempe-viiser

  

[Two humorous new folk ballads] (Copenhagen, no 
date). This volume contains a version of the traditional ballad of "Elver-høy" along with a Norwegian ballad, 
"Om 12 Kiemper paa Dovre-field." [I am indebted to Peter Mortensen for this information.] Herder's title 
in the Volkslieder (1778) is "Herr Oluf reitet  spät und  weit"

  

["Erlkönigs Tochter"]. This ballad provided 
the inspiration for Goethe's "

Erlkönig."
2.

 "reward"