Home | Corson Collection | Biography | Works | Image Collection | Recent Publications | Correspondence | Forthcoming Events | Links | E-texts | Contact
Sir Francis Leggatt Chantrey (1781-1841)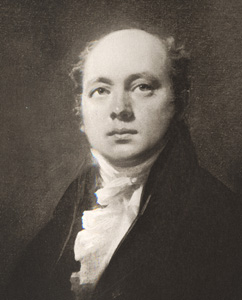 The sculptor Sir Francis Leggatt Chantrey was born at Norton, Derbyshire, on 7 April 1781. The son of a tenant farmer and carpenter, he received a rudimentary education at the village school. Initially apprenticed to a carver in nearby Sheffield, he broke his indentures in 1802 to pursue a career as a portrait painter. With encouragement from the mezzotintist J. R. Smith, he spent the next five years moving between Sheffield and London, working as a largely self-taught portraitist and modeller of busts. He was awarded his first public commission in 1805, carving a bust of the Revd James Wilkinson, vicar of Sheffield. This, his first work in marble, won him immediate local fame. Seeking perhaps to hone his skills, Chantrey attended the Royal Academy Schools in 1807 but never registered as a student. At around this point, Chantrey abandoned painting entirely in order to concentrate on sculpture. His sole exhibit at the academy in 1808, a bust of Satan, resulted in a commission to carve plaster busts of four naval heroes, admirals Duncan, Howe, Nelson, and St Vincent, for Alexander Daniel's additions to the Queen's House. Gradually Chantrey's fame spread in London. In 1809 he was commissioned to carve a bust of George III, for which the king gave sittings, and in 1810 he exhibited at the Royal Academy his first bust of a national leader, William Pitt.
| | |
| --- | --- |
| The year 1811 saw Chantrey gain widespread recognition. In April, the City of London awarded him the commission for a statue of George III for the Guildhall. Six plaster busts in a new, realistic style, exhibited at the Royal Academy, including Benjamin West, John Raphael Smith, John Horne Tooke, and Sir Francis Burdett, were a triumph. In the following years, Chantrey was much sought-after as a portrait sculptor, prized for his ability to capture the intimate character of his subjects and yet to portray them as men of the age in which they lived. His sitters included artists, writers, medical men, military heroes, scientists, and industrialists. Particularly outstanding works of this period include busts of James Watt (1815) and Sir Walter Scott (1820), and statues of Major-General Hoghton (1812), The Robinson Children (1815), and, for Parliament House, Edinburgh, Lord President Robert Blair (1812) and Robert Dundas of Arniston (1820). Sir Walter Scott judged the latter 'as like the original subjects as marble can do to flesh & blood' (to Charles William Henry Scott, 4th Duke of Buccleuch, 14 November 1818, Letters, V, 217). | Click on the thumbnail to see an engraving of Chantrey's bust of James Watt. |
Chantrey visited Italy in 1819, perhaps in response to pressure from patrons to attempt ideal, poetic figures, but he continued to specialize in contemporary portraiture. From the early 1820s until his death, Chantrey was the portrait sculptor of choice for wealthy, institutional, or public patrons. His masterpieces of these years include busts of George IV (1822), Robert Southey (1828), Sir Jeffry Wyatville (1837), and Queen Victoria (1838), and statues of James Watt (1820) and Revd Reginald Heber (1828). He was knighted by William IV in 1835 and his popularity remained undimmed until his sudden death in London on 25 November 1841. He bequeathed a legacy to the Royal Academy to support the purchase of British paintings and sculpture and to create a national collection of British art. A victim of the low esteem in which portrait sculpture has traditionally been held, Chantrey long suffered from critical neglect. He is now, however, increasingly recognized outstanding British sculptor of the early nineteenth century and as the creator of lasting images of some of the most important figures in British history.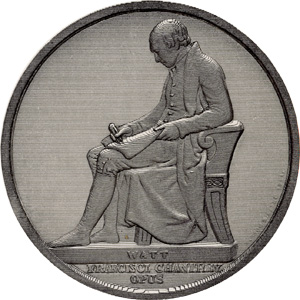 Medal of Chantrey's statue of James Watt by William Wyon, engraved by C. Chabot.
From: James Patrick Muirhead, The Life of James Watt (London: Murray, 1858)
Chantrey is responsible for three likenesses of Scott, the celebrated 1820 bust, a preliminary pencil sketch, and a statuette modelled as a tentative proposal for Edinburgh's Scott Monument (now at the Lady Lever Art Gallery).
Bibliography
Caw, James L. The Scott Gallery: A Series of One Hundred and Forty-Six Photogravures, Together with Descriptive Letterpress (Edinburgh; London: T. C. & E. C. Jack, 1903)

Graves, Algernon. A Dictionary of Artists Who Have Exhibited Works in the Principal London Exhibitions from 1760 to 1893, 3rd edn (London: H. Graves and Co., 1901)

Russell, Francis. Portraits of Sir Walter Scott: A Study of Romantic Portraiture (London: The Author, 1987)

Scott, Walter, Sir. The Letters of Sir Walter Scott, ed. H. J. C. Grierson, 12 vols (London: Constable, 1932-37)

Stevens, Timothy. 'Chantrey, Sir Francis Leggatt (1781-1841)', in Oxford Dictionary of National Biography: From the Earliest Times to the Year 2000, ed. H. C. G. Matthew and Brian Harrison, 60 vols (Oxford: Oxford University Press, 2004), XI, 20-25.

Thieme, Ulrich, and Felix Becker (eds). Allgemeines Lexikon der Bildenden Künstler: von der Antike bis zur Gegenwart (Leipzig: Seemann, 1907-50)
Last updated: 16-Jan-2009
© Edinburgh University Library