Home | Corson Collection | Biography | Works | Image Collection | Recent Publications | Correspondence | Forthcoming Events | Links | E-texts | Contact
Abraham Raimbach (1776-1843)
| | |
| --- | --- |
| Abraham Raimbach was born in London to a Swiss father and English mother on 16 February 1776. He was educated at Archbishop Tenison's School, then, in 1789, articled to the engraver John Hall. Following his apprenticeship, he studied at the Royal Academy for nine years, gaining a silver medal for life-drawing in 1799. He supported himself while studying by engraving small plates for Cooke's editions of the British poets and novelists. In 1801 he engraved three plates, from designs by Robert Smirke for the Rev. E. Forster's edition of the Arabian Nights, the earnings from which permitted him to visit Paris the following year (benefiting from the Peace of Amiens) and to study the artworks gathered there by Napoleon. On his return he collaborated again with Smirke on illustrations for an edition of Johnson's Rasselas (1805) and began to work extensively with Sharpe, Longman, and other publishers. | |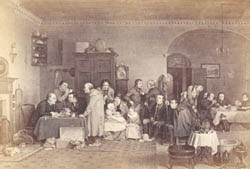 In 1812, Sir David Wilkie proposed to Raimbach that they collaborate on a series of large plates to be engraved after paintings by Wilkie. It is on these enormously popular and critically acclaimed works that Raimbach's reputation primarily rests. Their first joint work was a print of The Village Politicians (1814), a proof of which was exhibited at the Paris Salon and awarded a gold medal. It was followed by The Rent Day (1817, click on thumbnail, right), The Cut Finger (1819), Blind Man's Buff (1822), The Errand Boy (1825), Distraining for Rent (1828), The Parish Beadle (1834), and The Spanish Mother (1836). The collaboration with Wilkie brought Raimbach financial security. Wilkie was godfather to one of Raimbach's sons, named David Wilkie Raimbach in his honour, who became a portrait artist and, subsequently, headmaster of the Birmingham School of Art. Raimbach visited Paris again in 1824 and 1825, earning the admiration of some of France's leading engravers. In 1835 he was elected a corresponding member of the Institut de France. He died in Greenwich on 17 January 1843.
Raimbach only appears to have produced two Scott-related engravings. In 1811, he engraved the 1808 portrait of Scott by Sir Henry Raeburn. A mezzotint print had previously been produced by Charles Turner, but Scott judged it 'far inferior' to Raimbach's version. Scott sent copies of the Raimbach print to friends including John Leyden and Lady Abercorn, to whom he described it as 'prettily engraved' (Letters, II, 450). Then, in 1812, Raimbach engraved a plate after Richard Westall for Sharpe's edition of Scott's Glenfinlas, and Other Ballads, illustrating a scene from Don Roderick (click on thumbnail right).

For more information on Abraham Raimbach, visit the Raimbach Family Web Site.
Bibliography
Dictionary of National Biography (London: Oxford University Press, 1921)

Hunnisett, Basil. A Dictionary of British Steel Engravers (Leigh-on-Sea: F. Lewis, 1980)

Raimbach, Abraham. Memoirs and Recollections of the Late Abraham Raimbach, Esq. Engraver, ed. M. T. S. Raimbach (London: Frederick Shoberl, Junior, 1843)

Scott, Walter, Sir. The Letters of Sir Walter Scott , ed. H. J. C. Grierson (London: Constable, 1932-37)
Last updated: 04-Mar-2005
© Edinburgh University Library