Home | Corson Collection | Biography | Works | Image Collection | Recent Publications | Correspondence | Forthcoming Events | Links | E-texts | Contact
The Entrance of King George the Fourth at Holyrood (1829)
In August 1822, George IV became the first Hanoverian monarch to visit Scotland. Scott played a leading role in organizing the visit and acted as master of ceremonies. Sir David Wilkie travelled to Edinburgh at the same time as the king with a view to recording the event. He witnessed his arrival at the Royal Palace of Holyrood and included it in a list of possible pictures. He should actually have preferred to portray the royal visit to St Giles's Cathedral, but the king insisted that he record the return to the palace of his ancestors.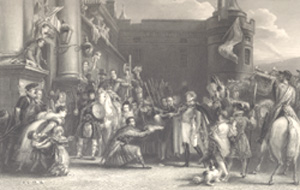 Click on the thumbnail to see a full-size image of an engraving of Wilkie's
The Entrance of King George the Fourth
at Holyrood by
William Greatbach
.
| | |
| --- | --- |
| Wilkie began work on the picture in October 1823 shortly after he succeeded Sir Henry Raeburn as His Majesty's Limner for Scotland. The king disliked the first study, as he felt he was posed too informally and demanded that he be given a more martial air. Wilkie modified his design accordingly and had made substantial progress by summer 1824. In July 1824, however, the king requested that Wilkie include Scott and his younger son Charles (see detail, right) amongst his entourage in the painting (as recorded in Scott's letter to Lady Abercorn, 1 August 1824, Letters, VIII, 340). | |
Wilkie returned to Scotland later that summer to make further studies for the painting, and visited Abbotsford in November in order to take Scott's likeness. One of his studies of the writer was subsequently worked up as a portrait in its own right for Sir William Knighton (see Sir David Wilkie's 1824 Portrait of Sir Walter Scott). Wilkie cut short his stay at Abbotsford upon hearing that his mother had suddenly been taken ill. He reached London on the 12th to learn that she had died the previous day. Her unexpected death, followed, in rapid succession, by further family bereavements and the collapse of his printsellers, contributed to a breakdown in Wilkie's health which left him incapable of working. He left on a convalescent trip to the Continent in July 1824 and did not return to Britain until June 1828. In February 1829, he finally felt able to return to the massive Holyrood group-portrait. He made a further visit to Scotland in the autumn of that year in order to confirm the veracity of some of the details, staying at Abbotsford on the return journey. Wilkie's correspondence suggests that he finally finished the painting in December 1829. The painting itself may well have born that date but the area to the right of the signature is badly preserved and the writing illegible. The finished painting, measuring 49 x 78 inches, was delivered to George IV early in 1830 and unveiled at the Royal Academy's Annual Exhibition later that year.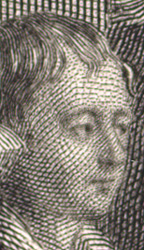 Detail of figure of Sir Walter Scott.
It met with a lukewarm reception and was only engraved once: by William Greatbach for the Art-Journal in 1858 (see top of page). It remains in the Royal Collection and is currently held at Holyrood Palace.
Bibliography
Russell, Francis. Portraits of Sir Walter Scott: A Study of Romantic Portraiture (London: The Author, 1987)
Last updated: 31-May-2005
© Edinburgh University Library