Home | Corson Collection | Biography | Works | Image Collection | Recent Publications | Portraits | Correspondence | Forthcoming Events | Links | E-Texts | Contact
The Surgeon's Daughter
'The Surgeon's Daughter' was written between 20 June and 16 September 1827 and published as the third and final tale in Chronicles of the Canongate, First Series, on 30 October 1827. For further information on its compositional history, click here.
Sources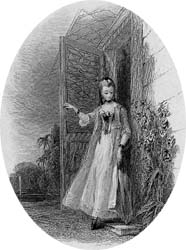 As acknowledged in the 'Magnum Opus' edition of Chronicles of the Canongate (1831), 'The Surgeon's Daughter' was inspired by an anecdote related to Scott one morning by Joseph Train, Gallowegian excise officer and antiquarian, who also supplied material for Guy Mannering, Old Mortality, and Redgauntlet. Train's narrative, a version of which he submitted for the 'Magnum Opus' edition, involved an unscrupulous adventurer who tricks a surgeon's daughter into travelling to India so that he might hand her over to an Indian prince. It has not to date been established whether Train's anecdote derives from a true story.
Although Scott never travelled to India, he had strong Indian connections. His brother Robert died young while serving in the East India Company. His uncle Colonel William Russell of Ashestiel served with both the East India Company and the army in Madras. His cousin James Russell was born in India and served in the Madras Native Cavalry. His brother-in-law Charles Carpenter was 'commercial resident' at Salem in South India. Many of Scott's childhood neighbours in George Square, Edinburgh, had Indian connections, as did his Border friend and fellow ballad-collector John Leyden.
Scott's most significant source, however, was Colonel James Ferguson (1778-1859), the younger brother of one of Scott's closest friends Sir Adam Ferguson. Ferguson returned to Scotland in 1823, after spending twenty-five years in India, and came to live with his two sisters at Huntlyburn on Scott's Abbotsford estate. As he worked on 'The Surgeon's Daughter', Scott felt increasingly hampered by his lack of first-hand knowledge of Indian life. As he wrote in his Journal (22 August 1827), the tale required 'a small seasoning of curry powder'. He turned to Colonel Ferguson who obliged him with written sketches of Indian manners, ceremony, and protocol and with advice on Anglo-Indian language. Some of Ferguson's material is reproduced almost verbatim in 'The Surgeon's Daughter'. It is from Ferguson too that Scott derives the punishment of death by elephant that is inflicted on Richard Middlemass.
Scott also drew extensively on published sources, particularly Robert Orme's History of the Military Transactions of the British Nation in Indostan, from the Year MDCCXLV (1763-78). Also important were Captivity, Sufferings, and Escape of James Scurry: Who Was Detained a Prisoner during Ten Years, in the Dominions of Hyder Ali and Tippoo Saib (1824) and Narrative Sketches of the Conquest of the Mysore, Effected by the British Troops and their Allies, in the Capture of Seringapatam, and the Death of Tippoo Sultaun (1800).
Synopsis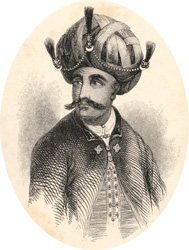 'The Surgeon's Daughter' is set in the mid- to late 1770s between the First and Second Mysore Wars. It is the story of Menie Gray, daughter of Dr Gideon Gray (who is thought to have been modelled on Scott's own doctor, Ebenezer Clarkson of Selkirk). Menie falls in love with Richard Middlemas, an illegitimate child brought up in the surgeon's household. Richard has been educated to the medical profession, and the couple are betrothed with the blessings of Menie's father. Scorning his prospects as a country doctor, however, Richard leaves Scotland to seek his fortune in India. Here he becomes the paramour of an adventuress Adela Montreville who concocts a plot to lure Menie to India and hand her over to the Vice-Regent of Bangalore, Prince Tippoo Saib (whose passions have been aroused by a picture of the young girl). Bribery and hope of advancement lead Richard to go along with the scheme, and Menie, who has been reduced to poverty following her father's death, answers Richard's call to join her in India as his wife. The hero of the story turns out to be Adam Hartley, a student friend of Richard's and his unsuccessful rival for Menie's hand. Adam secures the help of Hyder Ali, Tippoo Saib's father, who assures Menie's safety and punishes Richard by having him crushed to death by an elephant. Shortly afterwards, Adam contracts a fatal disease leaving Menie as his principal heir. Out of respect for his memory, she remains unmarried.
Links
Last updated: 19-Dec-2011
© Edinburgh University Library