Home | Corson Collection | Biography | Works | Image Collection | Recent Publications | Portraits | Correspondence | Forthcoming Events | Links | E-Texts | Contact
The Two Drovers
'The Two Drovers' was written between 27 June and 15 July 1827 and published as the second tale in Chronicles of the Canongate, First Series, on 30 October 1827. For further information on its compositional history click here.
Sources
'The Two Drovers' is based on an account that Scott had heard many years previously of the trial and execution in Carlisle of a Highland cattle drover accused of the murder of an English drover. Scott's source, which he acknowledged in the 'Magnum Opus' edition of Chronicles of the Canongate (1831), was George Constable (1719-1803), a friend of his father and the model for Jonathan Oldbuck in The Antiquary. It has not been established to date whether Constable's anecdote refers to a historically verifiable case.
Synopsis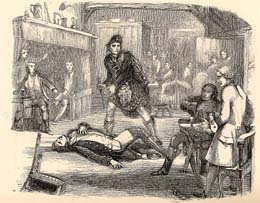 Chrystal Croftangry, narrator of Chronicles of the Canongate, presents 'The Two Drovers' as an illustration of the Highland concept of honour. Set in the late eighteenth century, it involves a dispute between two cattle drovers, the Highlander Robin Oig M'Combich and his friend Harry Wakefield, a Yorkshireman. When they put up together at an inn in Cumberland, a misunderstanding arises over pasturage for their cattle. The hot-tempered Harry, egged on by local bullies, challenges Robin to a fist-fight in the English manner to settle the question. Robin refuses, insisting he will either fight like a Highland gentleman with a broadsword or appeal to the law. Harry knocks him to the floor and promptly forgets the quarrel. Robin, leaves the inn, walks twelve miles to fetch his dirk (Highland dagger), and returns to kill Harry with one blow. He then gives himself up to justice and goes to his execution, happy to give his life for the life he took. Chrystal Croftangry claims to have been present at his trial as a young lawyer.
Links
Last updated: 19-Dec-2011
© Edinburgh University Library