Home | Corson Collection | Biography | Works | Image Collection | Recent Publications | Portraits | Correspondence | Forthcoming Events | Links | E-Texts | Contact
The Heart of Midlothian
(Tales of My Landlord, Second Series)
First Edition, First Impression:
Tales of My Landlord, Second Series. Collected and Arranged by Jedediah Cleishbotham, Schoolmaster and Parish-clerk of Gandercleugh. In Four Volumes. Vol. I (II-IV). Edinburgh: Printed for Archibald Constable and Company, 1818.
Composition | Synopsis | Reception | Links
Composition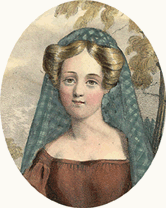 The Heart of Midlothian was published as the Second Series of Tales of My Landlord on July 25, 1818, seven months after Rob Roy. Scott had been very satisfied with Constable's handling of Rob Roy and therefore did not revert to Blackwood and Murray. Scott also transferred the rights for the first series of Tales of My Landlord (see The Tale of Old Mortality and The Black Dwarf) to Constable, beginning with the fifth edition of 1819. The novel's heroine, Jeanie Deans, was inspired by an account that Scott had received of Helen Walker, who had journeyed all the way to London on foot to obtain a pardon for her sister on a charge of child-murder. With Scott regaining his health during January and February 1818, the tale progressed fast. During May 1818 Scott was so determined to finish The Heart of Midlothian that he broke his usual habit and worked after dinner as well as in the morning.
Synopsis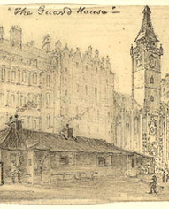 The first volume of the novel, opening in Edinburgh in 1736, is dominated by the Porteous Riots. A condemned criminal Andrew Wilson has helped his accomplice 'Robertson' (the assumed identity of the reckless young nobleman George Staunton) to escape. Won over by this selfless act, the crowd are incensed when Captain Porteous, the soldier presiding over Wilson's hanging, treats him with great brutality. At their protest, Porteous fires into the crowd, killing half-a-dozen people. Porteous is subsequently condemned for murder but reprieved at the last minute. A mob, led by Staunton, storm the Old Tolbooth Prison (known as 'The Heart of Midlothian'), seize Porteous and lynch him. Staunton had also hoped to liberate his lover Effie Deans who is awaiting trial for child-murder, but she refuses to escape. The second volume is concerned with her trial and condemnation. Having been seduced and made pregnant by Staunton, Effie has hidden her condition from her sister, father, and employers. Since she cannot produce the child in court and has informed nobody of her condition, it is presumed that she has murdered her child to conceal her guilt. The truth is that the baby has been stolen by Staunton's demented former mistress Madge Wildfire while Effie lay sick. Effie's sister Jeanie faces a moral dilemma in court when asked whether Effie told her of her condition. Although a white lie would save Effie's life, Jeanie's religious and moral convictions forbid her to tell an untruth. Effie is sentenced to death. Volume III covers Jeanie's journey to London in the course of which she meets both Madge Wildfire and her mother Meg Murdockson who has sold Effie's son to a vagrant woman in revenge for Staunton's seducing her daughter. In London Jeanie is aided by the Duke of Argyle, who manages to secure her a successful interview with the Queen. The final volume describes Jeanie's marriage to the Presbyterian minister Reuben Butler and their newfound prosperity living on the estate of the Duke of Argyle. Effie, meanwhile, marries Staunton. Many years later Staunton, while searching for his lost child, is killed by an outlaw who turns out to be his own son. The son then flees to America and joins an Indian tribe.
Reception
Many now consider The Heart of Midlothian to be the best of the Waverley novels. On first publication, however, despite its immediate commercial succes, critical reaction was lukewarm. Criticism centred on the fourth volume which was felt to protract the novel beyond its natural conclusion. Blackwood's and the British Review suggested that it had been tagged on with profit in mind. The Monthly Review argued that Effie's transformation into Lady Staunton and Staunton's death at the hands were excessively improbable. All nonetheless praised Scott for his ability to recreate the past vividly and to illustrate the Scottish character.
Links
Last updated: 19-Dec-2011
© Edinburgh University Library