Home | Corson Collection | Biography | Works | Image Collection | Recent Publications | Portraits | Correspondence | Forthcoming Events | Links | E-Texts | Contact
The Highland Widow
'The Highland Widow' was written between 9 July 1826 and 25 June 1827 and published as the first tale in Chronicles of the Canongate, First Series, on 30 October 1827. For further information on its compositional history click here.
Sources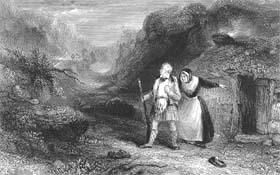 Chrystal Croftangry, the fictional editor of the Chronicles, claims to be publishing a memorandum from his friend Mrs Martha Bethune Baliol. While making a tour of the Highlands nearly forty years previously, the young Mrs Bethune Baliol had met the 'Highland Widow' and heard her tale. Mrs Bethune Baliol is modelled on Mrs Anne Murray Keith, a friend of Scott's maternal aunt Christian Rutherford, and, according to the 'Magnum Opus' edition of the Chronicles (1831), the genuine source of the tale. Although there is no reason to doubt that Scott first heard the tale from Mrs Murray Keith's lips, a version of it was also told in Sir John Carr's Caledonian Sketches, or, A Tour through Scotland in 1807 (1809), a work that Scott reviewed for the Quarterly Review. The title was suggested by 'The Highland Widow's Lament', a Jacobite lament in which the singer relates her sufferings since her husband's death at Culloden. The 'Lament' was contributed to James Johnson's Scots Musical Museum in 1796 by Robert Burns who is thought to have written part of it himself. MacTavish Mhor, the widow's late husband in Scott's tale, is largely modelled on Rob Roy Macgregor (see Rob Roy).
Synopsis
The tale takes place on the banks of the River Awe in Argyllshire during the Seven Years War (1756-63). The heroine is Elspat MacTavish, the widow of MacTavish Mhor, one of the last of the Highland caterans ('marauders'), shot as a Jacobite after the battle of Culloden in 1745. She lives alone with her son, Hamish Bean MacTavish, hoping that he will grow up to revive his father's way of life. Hamish, however, realizes that in changed times the only honourable way he can imitate his father's courage and sense of adventure is by joining a government regiment destined for America. When Hamish visits his mother on a furlough, the incensed Elspat drugs him so that he sleeps beyond his leave of absence, hoping that he will escape with her and lead the life of a cateran rather than be branded a deserter. Instead he awaits his fate but is goaded by his mother into killing the officer sent to arrest her. Hamish is tried and executed; Elspat devotes the rest of her life to mourning and remorse before disappearing to die in solitude.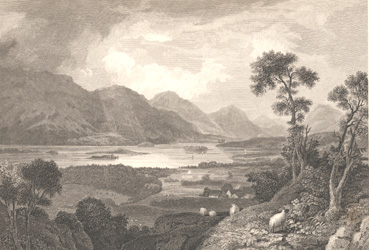 Links
Last updated: 19-Dec-2011
© Edinburgh University Library