Home | Corson Collection | Biography | Works | Image Collection | Recent Publications | Portraits | Correspondence | Forthcoming Events | Links | E-Texts | Contact
Marmion
First Edition, First Impression:
Marmion; A Tale of Flodden Field. By Walter Scott, Esq. Edinburgh: Printed by J. Ballantyne and Co. For Archibald Constable and Company, Edinburgh; and William Miller, and John Murray, London, 1808.
Composition | Synopsis | Reception | Links
Composition

In late 1806 Scott began to write a poem on one of the greatest disasters in Scottish history, the battle of Flodden Field (1513), where an English army inflicted heavy losses on the Scots, killing King James IV and most of his nobles. One of Scott's correspondents, Anna Seward queried whether it might not be too offensive to Scottish pride to commemorate such an event in verse. Scott replied that at Flodden 'all was lost but our honour', making it an eminently suitable subject for a poet (letter of February 20, 1807). Much of the poem was written at Ashestiel, and the epistles to friends which preface each of the six cantos describe the effects of the changing seasons upon its scenery. Work on the poem was delayed by Scott's editorial commitments on the Works of John Dryden and by his efforts to disentangle the financial affairs of his brother, Tom. It was finally completed on January 22, 1808, and published on February 22.
Synopsis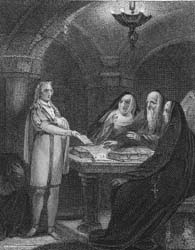 The poem concerns the designs of Lord Marmion, a favourite of Henry VIII, upon a wealthy heiress, Clara de Clare. In order to remove her fiancé, Sir Ralph De Wilton, he forges a letter implicating him in a treasonable plot. In this, he is assisted by his mistress, Constance De Beverley, a perjured nun, who thus hopes to reconquer his affection. De Wilton claims the right to defend his honour in combat but is defeated by Marmion and forced to flee abroad. In order to escape Marmion, Clara takes refuge in a convent. Marmion abandons Constance who is condemned to death for breaking her vows and walled up alive in the convent of St. Hilda on the Holy Island at Lindisfarne. Before her death, she consigns to the Abbess documents proving De Wilton's innocence. De Wilton, meanwhile, has re-entered the country disguised as a pilgrim. He follows Marmion to Scotland where he has gone to make overtures for peace at the Scottish court (and to assess the Scots' battle-readiness). The Abbess finds De Wilton in Edinburgh and hands over the documents. De Wilton shows these to Marmion's host, the Earl of Angus, who equips him with armour and readmits him to the order of knighthood. The battle of Flodden Field is fought before De Wilton can proceed further against Marmion. Marmion is killed in the battle. De Wilton fights with distinction, regains his honour and estates, and marries Clara.
Reception
Marmion was an even greater commercial success than The Lay of the Last Minstrel The first (exorbitantly priced) edition of 2,000 copies sold out in under two months, and by the end of May 1808 the poem was already into its third edition. Frequently reprinted, Marmion remained a best-seller throughout the nineteenth century.
Critical response, however, was a good deal cooler. There was widespread censure of the opening epistles, which were felt to intrude upon the narrative. The plot was judged obscure and, in these pre-Byronic days, the character of Marmion, a mixture of villainy and magnanimity, was felt to be unsuitable for a poetic hero. A particularly pointed critique was offered by Francis Jeffrey in the Edinburgh Review. For Jeffrey, there was too much in he poem that was 'flat and tedious' where Scott appeared merely to be vaunting his historical knowledge. He objected to the anachronistic vogue for chivalry that Scott had fostered and, as an advocate of peace with France, bridled at the bellicose sentiments of the introductory epistles. None of this, however, hindered Scott's mounting vogue. This had now reached such a height that Constable was able to commission a portrait of the poet from the celebrated painter Sir Henry Raeburn.

Links
Last updated: 19-Dec-2011
© Edinburgh University Library