Home | Corson Collection | Biography | Works | Image Collection | Recent Publications | Portraits | Correspondence | Forthcoming Events | Links | E-Texts | Contact
Sandyknowe and Early Childhood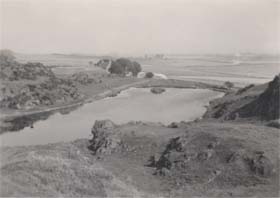 In 1773 the infant Scott was sent to Sandyknowe Farm in the hope that fresh air and exercise would mend his delicate health. Located 30 miles southeast of Edinburgh in Roxburghshire, Sandyknowe belonged to Walter Scott's grandparents Robert and Barbara Scott. Scott's constant companion was his Aunt Janet (Jenny) who would read to him on days when he was unable to venture outside due to his illness. A particular favourite was Allan Ramsay's Tea-Table Miscellany, and Scott's lifelong love of ballads had its origins in his Aunt's recitations from this collection. His grandmother too would entertain him with tales of Border warfare between the Scots and the English and stories of his own family's struggles during the civil and religious turmoil of 17th- and 18th-century Scotland.
| | |
| --- | --- |
| Those featured in his grandmother's stories included Scott's great-great-great grandfather William who had been knighted by James I and VI only to be later fined by Cromwell for his loyalty to Charles I. Other family legends concerned Scott's great-grandfather, Walter, or 'Beardie', who was so loyal to the Stuart dynasty that after the Glorious Revolution of 1688 he vowed never to cut his beard until a Stuart king was once again on the throne. His participation in the 1715 uprising cost him his fortune and very nearly his life. | |
Aunt Jenny not only told Scott stories but also taught him how to read. Although he was at first reluctant, his Aunt's persistence paid off, and Scott soon became a very competent and enthusiastic reader. In January 1775 his grandfather died, and Scott returned to Edinburgh. His stay in the Borders had improved his health, and he was now able to walk with the aid of a small staff.
| | |
| --- | --- |
| | Nonetheless, in the summer of 1775 he was sent, accompanied by Aunt Jenny, to Bath, where it was hoped that the waters might aid his lameness. It was here that an unknown artist painted a watercolour profile of the young Scott, commonly known as the 'Bath Miniature' (see left for an engraving by John Horsburgh). He spent a year in the spa town, returning to Edinburgh the following summer with a marked English accent. |
Although Scott had continued to grow stronger in Bath, there had been no improvement in his leg. In winter 1776, then, he was again consigned to Sandyknowe, where his grandmother was now running the farm with the help of her son Thomas. Scott spent the long winter months reading the books he found on the farm, growing particularly fond of Josephus's Wars of the Jews. A further unsuccessful water cure was attempted at Prestonpans in summer 1777 until, after a final winter at Sandyknowe, his father was persuaded that Scott's lameness was irremediable but his health sufficiently strong to permit him to begin school in Edinburgh. In addition to building his strength, Scott's residence at Sandyknowe had provided him with a firm grounding in storytelling and ancient oral Border traditions, which he would later employ in his fiction.

Last updated: 24-Oct-2003
© Edinburgh University Library