Home | Corson Collection | Biography | Works | Image Collection | Recent Publications | Portraits | Correspondence | Forthcoming Events | Links | E-Texts | Contact
School and University
On his return from Sandyknowe, Scott was privately educated in preparation for the High School of Edinburgh (now the Royal High School), which he entered in October 1779. The School had just moved into its new building on Infirmary Street (portrayed left), now the seat of Edinburgh University's Department of Archaeology. Scott initially felt at something of a disadvantage, for although he was a year older than most of his classmates, his knowledge of Latin, the staple of the school's curriculum, was markedly inferior. Soon, however, he had bridged the gap and became a competent if never brilliant scholar. He was popular with his schoolfellows who admired his refusal to let his lameness prevent him from participating in their boisterous playground games. The young Scott was already a tireless walker, endlessly exploring the streets of the Old Town and familiarizing himself with the terrain that was to feature in The Heart of Midlothian and Redgauntlet.
| | |
| --- | --- |
| Scott thought his first-year tutor Luke Fraser something of a pedant. He took much greater pleasure in learning when in 1780 he entered the class of the rector, Dr Alexander Adam (1741-1809). Adam, one of the most innovative educators of his age, sought to instill in his pupils not only a grasp of grammar but a sensitivity to literary language. With Adam's encouragement, the young Scott translated Horace and Virgil into English verse and made his first attempts at original composition. | |
His education was not confined to the school day. Together with chivalric romances and the poems of Spenser, Ariosto, and Boiardo, Scott was already a voracious reader of history and books of travel. His father had also engaged a private tutor, James Mitchell, to teach him arithmetic and writing (not part of the High School's curriculum). Mitchell, a fiery defender of the Kirk, found time to verse Scott in church history and in the travails of the Covenanters, lessons which would eventually bear fruit in Old Mortality.
| | |
| --- | --- |
| | During his last year at the High School, Scott had put on several inches -- as an adult he was over six feet tall -- and his family feared that he was outgrowing his strength. Before sending him to college, they therefore decided that he should spend half-a-year with his Aunt Jenny in Kelso building up his constitution. He was to keep up his Latin while at Kelso by attending the local Grammar School, picturesquely set in the shadow of the ruined abbey (left). |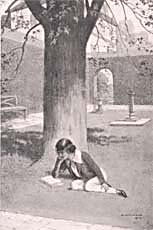 Here he made one of the most significant friendships of his life. Among his classmates was the son of a local shop-keeper, James Ballantyne, Scott's future business-partner and printer of his major works. It was also at Kelso, which was equipped with well-stocked circulating and subscription libraries, that Scott discovered the eighteenth-century novel, delighting in the works of Richardson, Fielding, Smollett and Mackenzie. His most pleasurable encounter, however, was with Bishop Percy's great ballad-collection Reliques of Ancient English Poetry. For Scott, it was a revelation that a distinguished scholar could share his enthusiasm for popular poetry and consider it a subject for serious research. The Reliques would later provide the model for Scott's first important publication The Minstrelsy of the Scottish Border.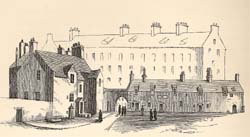 In November 1783, Scott was called home to study classics at Edinburgh University. At only twelve years old, he was a year or so younger than most of his classmates. An initial sense of inferiority was heightened by his ignorance of Greek. With overpopulated lecture-rooms, no tutorials, and uninspiring teaching, there was little hope of him catching up with his peers. At the end of his first session, Scott scandalized his Greek lecturer, Professor Dalzell, by handing in an essay arguing that Ariosto was a superior poet to Homer. He nonetheless became popular with his fellow students, making a number of acquaintances which would prove influential in his professional life as a lawyer, including William Rae, future Lord Advocate, and Archibald Campbell, later judge of the Court of Session. Scott initially spent two years at the College, interrupted by an illness necessitating a further stay at Kelso. Then in March 1786, he began his apprenticeship to the profession of Writer to the Signet in his father's office (see Professional Life).
When it was subsequently decided that Scott should aim for the Bar rather than follow his father's career, he resumed his university studies. Before taking up the formal study of Law, he attended classes in Moral Philosophy and Universal History in 1789-90. The former was taught by the charismatic Dugald Stewart (1753-1828) who combined the Scottish 'Common Sense' tradition with elements of empiricism. Believing that the true object of moral philosophy was the study of man in society, Stewart argued that human welfare could be advanced by following universal ideals of truth and virtue. Scott was skeptical of Stewart's belief that irrational institutions and customs could be clinically eliminated, maintaining that these developed in an organic fashion and could not be uprooted without inflicting moral and emotional damage. Nonetheless, Stewart's stress on man as a social being, his view of society as a constantly evolving mechanism, and his faith in universal, trans-historical values would all play their part in the development of Scott's own philosophy of history.
| | |
| --- | --- |
| | Equally significant were Alexander Fraser Tytler's lectures on Universal History. Tytler (1747-1813) impressed Scott with his distrust of grandiose, universal schemes of history and his horror of generalizations. An empiricist in the tradition of Hume, he emphasized the role of institutions, heredity, and environment as the shaping forces of history. Through Stewart and Tytler, then, Scott came into contact with Enlightenment approaches to history and sociology. In his fiction, these would be brought to bear on the oral, folk traditions that he had absorbed at Sandyknowe and Kelso. |
Links
Last updated: 28-Nov-2011
© Edinburgh University Library