Home | Corson Collection | Biography | Works | Image Collection | Recent Publications | Correspondence | Forthcoming Events | Links | E-texts | Contact
William Dickes (1815-92)
The wood engraver and pioneering colour printer William Dickes was born in Beechencliff, near Bath, on 7 May 1815. He was apprenticed to the wood engraver Robert Branston Junior around 1831, then from 1835 attended the Royal Academy Schools where he won several medals for drawing. His first large-scale commission was to illlustrate The Naturalist's Library for W.H. Lizars in 1840. Shortly afterwards, he drew illustrations on wood for Charles Knight's London (1841) and Captain Maryatt's Masterman Ready (1842). In 1842 he was commissioned by Robert Cadell to draw illustrations and to supervise engraving (mostly on wood) for the Abbotsford Edition of the Waverley Novels. It was this publication which firmly established Dickes as a wood engraver. Not only did he win a solid reputation for the intricacy of his work, but he also made many useful contacts among the many leading illustrators who contributed to the project. In 1846, he was able to set himself up in business on his own in London as a 'artist and engraver in wood and copper'. He now began to work as a lithographer and to experiment with colour printing in oil from wood blocks. Popular publications to which he contributed include Simm's & McIntyre's Parlour Library (1847-62), Amalie Winter's Michael and the Twins (1850), H. Noel Humphreys's The Poet's Pleasance (1847) and Sentiments and Similes of William Shakespeare (1851), and Charles Kingsley's Glaucus (1855).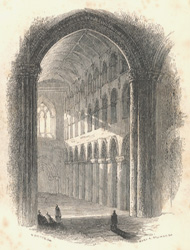 Click on the thumbnail to see a full-size image of an engraving of Dickes's Aisle of St Magnus' Cathedral, Kirkwall for the Abbotsford Edition of The Pirate.
Dickes is also known for his pioneering work in developping colour printing techniques. He displayed specimens of oil colour printing from raised surfaces at the Great Exhibition in 1851 and exhibited in Paris in 1855. In 1864 he began collaborating with his sons Walter and William Frederick as William Dickes and Company. Their premises at 109 Faringdon Road, London, covered five storeys of printing and engraving works where Dickes trained five artists and two engravers. The firm won prizes at the International Exhibitions in London (1862), Dublin (1865), and Paris (1867). They became the principal colour printers for the Society for Promoting Christian Knowledge, the People's Magazine, Gentleman's Journal, Queen, and the Religious Tract Society, catering extensively for the Victorian middle-class and lower middle-class readership. Wilkes retired in 1873, by which time trade was slackening, and died on 26 February 1892.
| | | |
| --- | --- | --- |
| | Dickes's extensive contributions to the Abbotsford Edition of the Waverley Novels include original drawings in a variety of genres (figure, portrait, landscape, architectural) and engravings of works by other artists. Click on the thumbnails below to see an engraving of an original drawing by Dickes (left) and an engraving by Dickes of a design by Sir Noel Paton. | |
Bibliography
Engen, Rodney K. Dictionary of Victorian Wood Engravers (Cambridge: Chadwyck-Healey, 1985)
Last updated: 27-May-2005
© Edinburgh University Library