Home | Corson Collection | Biography | Works | Image Collection | Recent Publications | Correspondence | Forthcoming Events | Links | E-texts | Contact
William Thomas Fry (1789-1843)
Relatively little is known of the portrait and figure engraver William Thomas Fry. Between 1829 and 1835, he engraved eight portraits for the second edition of Edmond Lodge's Portraits of Illustrious Personages of Great Britain, after Holbein, Kneller and others, notably King Henry V, Queen Elizabeth, and Sir Isaac Newton. He contributed four plates to Fisher's National Portrait Gallery (1830-34) and eleven to Jones's National Gallery (1836). His plates continued to be used in publications long after his death, the Imperial Dictionary (1861) carrying his portraits of Turgot and Halley (see below). Fry was one of the earliest engravers to experiment with steel plates, first with those produced by J. Perkins from early in 1820 and, then, with more success, those made by C. Warren. With the latter, he engraved the portrait of the Rev. William Naylor for the Methodist Magazine, February 1822 and further portraits for the Evangelical Magazine, 1823-24. In the Forget Me Not, 1825, he engraved two of the first steel plates to be used in an annual.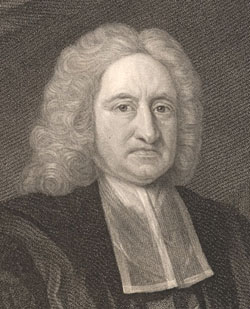 Click on the image above to see a full-size image of a portrait of the astronomer Edmond Halley (1656-1742), discoverer of Halley's Comet.
Fry engraved two portraits of Scott: a copy of Thomas Phillips's portrait and a waist-length derivation of Raeburn's 1808 portrait. These appear to be his only Scott-related engravings.
Click here to see an engraving by Fry of William Nicholson's portrait of James Hogg.
Bibliography
Dictionary of National Biography (London: Oxford University Press, 1921)

Hunnisett, Basil. A Dictionary of British Steel Engravers (Leigh-on-Sea: F. Lewis, 1980)

Russell, Francis. Portraits of Sir Walter Scott: A Study of Romantic Portraiture (London: The Author, 1987)

Todd, William. B., and Ann Bowden. Sir Walter Scott: A Bibliographical History, 1796-1832 (New Castle, DE: Oak Knoll Press, 1998)
Last updated: 6-June-2005
© Edinburgh University Library