Home | Corson Collection | Biography | Works | Image Collection | Recent Publications | Correspondence | Forthcoming Events | Links | E-texts | Contact
Henry Bryan Hall (1808-84)
The stipple engraver and portrait painter Henry Bryan Hall, was born in London on 11 May 1808 and served his apprenticeship under the engravers Benjamin Smith and Henry Meyer. He was subsequently employed by Henry Thomas Ryall who held the title of 'Portrait and Historical Engraver to Her Majesty, Queen Victoria'. In this capacity, Hall contributed plates to Ryall's Eminent Conservative Statesmen (1837-38) and helped to engrave the seventy portraits in Ryall's plate of The Coronation of Queen Victoria after George Hayter (1838-42). Further bookwork included engravings of English Protestant martyrs for C. Birch (1839) and contributions to John Wilson and Robert Chambers's The Land of Burns (1840), Finden's Gallery of Beauty (1841), J. W. Carleton's Sporting Sketch-Book (1842), and J. Kitto's Gallery of Scripture Engravings (1846-49).
Hall emigrated to New York in 1850, set up the firm of H. B. Hall and Sons, and established an extensive practice as engraver and publisher of portraits. In particular, he etched a large number of portraits of prominent figures in American colonial and revolutionary history for a private club in New York and for Philadelphia collectors. Hall was also a talented portrait painter in his own right specialising in miniature work on ivory. While still in London, he had painted Napoleon III, and, following his move to America, produced acclaimed portraits of fellow artists Thomas Sully and C. L. Elliott. Hall's children Alfred, Alice, Charles, and Henry were all talented engravers. In particular, Henry Bryan Hall the Younger (fl. 1855-1900) is celebrated for his engravings of the leading figures in the US Civil War (in which he fought). As both father and son engraved portraits of US military and political heroes, it is sometimes difficult to establish which is responsible for a particular plate. Hall died in Morrisania, New York, on 25 April 1884.
Henry Bryan Hall's only Scott-related work appears to be an engraving of the 1830 portrait by Sir John Watson Gordon, published as the frontispiece to Charles Daly's 1837 edition of The Lay of the Last Minstrel. Click on the image below to see a full-size image of Hall's engraving of William Smellie after George Watson for The Land of Burns.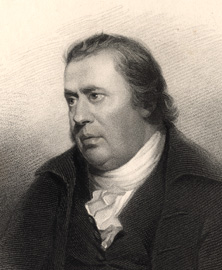 Bibliography
In addition to the sources below, information was gleaned from the online catalogue of the National Portrait Gallery, in which several works by Henry Bryan Hall may be viewed.
Engen, Rodney K. Dictionary of Victorian Engravers, Print Publishers and their Works (Cambridge: Chadwyck-Healey, c1979)


Fielding, Mantle. Dictionary of American Painters, Sculptors & Engravers, 2nd newly-rev., enl., and updated edn, ed. Glenn B. Opitz (Poughkeepsie, NY: Apollo, 1986)


Hunnisett, Basil. A Dictionary of British Steel Engravers (Leigh-on-Sea: F. Lewis, 1980)


Stauffer, David McNeely and Mantle Fielding. American Engravers upon Copper and Steel (New York: Franklin, [1964])
Last updated: 27-Mar-2007
© Edinburgh University Library