Home | Corson Collection | Biography | Works | Image Collection | Recent Publications | Correspondence | Forthcoming Events | Links | E-texts | Contact
Sir John Watson Gordon (1788-1864)
The portrait painter Sir John Watson Gordon was born in Edinburgh in 1788. He was the son of Captain James Watson of the Royal Artillery and a second cousin to Sir Walter Scott on Scott's mother's side. He was initially expected to follow in his father's footsteps but was too young, on completing his schooling, to take up a cadetship in the Military Academy at Woolwich. As he showed a predilection for the arts, he was enrolled in the Trustees' Academy in Edinburgh where he received drawing lessons from John Graham. He received less formal tuition in painting from his uncle George Watson, a prominent portrait-painter, and from Sir Henry Raeburn, a family friend. He rapidly made such progress as to persuade his family to let him follow an artistic career.
| | |
| --- | --- |
| Watson-Gordon is today best-known as a portraitist, but his earliest works were genre scenes, including, in 1808, a scene from Scott's The Lay of the Last Minstrel and, 1821, Meg Merrilies, Ellangowan, and his Groom, a scene from Guy Mannering. He continued to paint religious and genre pictures but after 1821 concentrated on portraiture, and, following the death of Raeburn (by whom he was deeply influenced), rose to become the leading portrait painter in Scotland. In 1826, he assumed the name Watson Gordon (sometimes hyphenated) in order to avoid confusion with his uncle and with his cousin William Stewart Watson, another distinguished Edinburgh-based painter. In the same year, he was a founding member of the Royal Scottish Academy in 1826 and displayed work at their annual exhibitions from 1830 until 1865. From 1827, he also exhibited at the Royal Academy in London, achieving both critical and popular acclaim, and attracting many English sitters to his Edinburgh studio. | |
Watson Gordon was particularly successful in portraying the artists, literati, and intellectuals of his day, including a celebrated set of paintings of the prime movers behind Blackwood's Magazine: J. G. Lockhart (1821), John Wilson (1829 and 1858), and James Hogg (1830). Other celebrated portraits of writers and thinkers include Lady Nairne (1815), Thomas Chalmers (1838), Sir Archibald Alison (1839), and Thomas de Quincey (1846). In the first two decades of his prime as a portrait-painter, Watson Gordon's style was rich and varied in colour. Particularly fine examples are the likenesses of the Earl of Dalhousie (1833) in the Archers' Hall, Edinburgh, of and Lord President Hope (1832) in the Signet Library.
| | | |
| --- | --- | --- |
| | Click on the thumbnails to see reproductions of Watson Gordon's portraits of Lord President Hope (left) and James Hogg (right). | |
Gradually, however, he adopted a more spartan style, using muted colour and a cool light. Masterpieces of this final phase of his career include Principal John Lee (1847), David Cox (1855), Henry Houldsworth of Coltness (1856), and Roderick Gray, Provost of Peterhead (1852), for which he was a awarded a gold medal at the Paris Universal Exhibition of 1855. In 1850 Watson Gordon succeeded Sir William Allan as President of the Royal Scottish Academy. Shortly afterwards he was knighted and appointed Royal Limner (i.e. court painter) for Scotland. Watson Gordon died suddenly in Edinburgh on 1 June 1864. In his memory his brother and sister endowed the Watson-Gordon Professorship of Fine Art at Edinburgh University in 1879, the first chair in art history in Britain.
Watson Gordon painted four likenesses of Sir Walter Scott: complete portraits in 1820 and 1830, an unfinished portrait dating probably from 1830, and the posthumous Sir Walter Scott in his Study at Castle Street. Scott also commissioned from Watson Gordon a portrait of his mother, Anne Rutherford (see Family Background) and a set of miniature portraits of his family for the travelling case of his soldier-son Walter. In addition, be made copies of the 1809 and 1823 portraits of Scott by Sir Henry Raeburn for James Skene of Rubislaw (ca. 1829) and Hugh Scott of Draycott (1825) respectively.
Watson Gordon's 1830 portrait of Scott was commissioned by Robert Cadell in order to be engraved for the 'Magnum Opus' edition of the Waverley Novels. Watson Gordon made two further contributions to the 'Magnum Opus': the frontispiece and title-page vignette of vol. XXXVIII (The Talisman) (1832) of the Waverley Novels and a portrait of Francis Jeffrey for vol. XVII of the Prose Works (1835).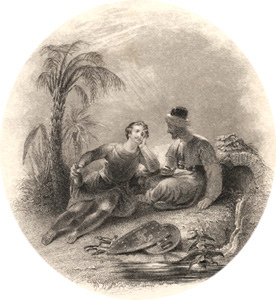 Click on the thumbnail to see Watson Gordon's title page vignette for The Talisman.
Bibliography
Anon. 'Memoir of Sir John Watson Gordon', The Art-Journal, 12 (1850), 373.

Caw, James L. Scottish Painting Past and Present, 1620–1908 (Edinburgh: T. C. & E. C. Jack, 1908)

Macmillan, Duncan. Scottish Art, 1460-1990 (Edinburgh: Mainstream, 1990)

Melville, Jennifer. 'Gordon, Sir John Watson- (1788–1864)', in Oxford Dictionary of National Biography (Oxford: Oxford University Press, 2004) [http://www.oxforddnb.com/view/article/11068, accessed 3 Feb 2009]

Rinder, Frank (ed.). The Royal Scottish Academy, 1826-1916: A Complete List of the Exhibited Works by Raeburn and by Academicians, Associates and Hon. Members (Glasgow: Maclehose, 1917)

Russell, Francis. Portraits of Sir Walter Scott: A Study of Romantic Portraiture (London: The Author, 1987)
Last updated: 17-Feb-2009
© Edinburgh University Library