Home | Corson Collection | Biography | Works | Image Collection | Recent Publications | Correspondence | Forthcoming Events | Links | E-texts | Contact
Sir Henry Raeburn's 1823 Portraits of Sir Walter Scott
In 1819, Charles Montagu-Scott, 4th Duke of Buccleuch, asked Scott to sit to Raeburn for a portrait destined to hang in the library of the Buccleuch family home of Bowhill. Scott replied:
Respecting the portrait I shall be equally proud and happy to sit for it & hope it may be executed in some degree worthy of the preferment to which it is destined. But neither my late golden hue for I was coverd with jaundice nor my present silver complection looking much more like a spectre than a man will present any idea of my quondam beef-eating physiognomy. I must wait till the age of brass the true juridical bronze of my profession shall again appear on my frontal. I hesitate a little about Raeburn unless your Grace is quite determined. He has very much to do works just now chiefly for cash poor fellow as he can have but a few years to make money and has twice made a very chowderheaded [i.e. clumsy- or thick-headed] person of me. I should like much (always with your approbation) to try [Sir William] Allan who is a man of real genius and has made one or two glorious portraits though his predilection is to the historical branch of the art. (15 April 1819, Letters, V, 349)
Scott's reservations relate to the stolid appearance that he believed Raeburn had given him in his portraits of 1808 and 1809. His letter, however, did not reach the Duke who died on 20 April 1819. In 1823, the Duke's brother Lord Montagu of Boughton asked Scott to fulfil the engagement. Scott undertook to make arrangements with Raeburn but, before he could do so, was himself contacted by Raeburn who wished to paint the writer for his private gallery of friends and associates. It was agreed that Scott would sit for two portraits simultaneously, one for Lord Montagu, the other for Raeburn in exchange for a series of carvings from the ancient Mercat Cross of Edinburgh then to be found in the painter's gothic rockery. There is no evidence as to when the pictures were begun, but Maria Edgeworth reported both to be in a relatively advanced stage on 12 June 1823 when she and her sisters visited Raeburn's studio. Two hours after this visit Scott and Raeburn set out together for the annual meeting of the Blairadam Club (a society of antiquarians) in Fife. Less than three weeks later, on 8 July, Raeburn was dead. That same day Scott wrote to Benjamin Robert Haydon:
This has been a severe season for the arts: about a fortnight since I had a very merry party through Fifeshire, with our Chief Baron (Sergeant Shepherd) and the Lord Chief Commissioner, and above all, Sir H. Raeburn, our famous portrait painter. No one could seem more healthy than he was, or more active, and of an athletic spare habit, that seemed made for a very long life. But this morning I have the melancholy news of his death after three days illness, by which painting is deprived of a votary of genius, our city of an ornament, and society of a most excellent and most innocent member. (Letters, VIII, 32)
On 17 July Scott wrote to Lord Montagu:
Poor Sir Henry Reaburn [sic] is no more- He was over in Fife with the Chief Commissioner Chief Baron & myself on a pleasure party about three weeks hence and I never saw a man in better health. But he died of water in the head a hopeless disease which must have been long in the constitution. When he came back from Fife he said now I am better acquainted with your face than ever I was (having been three or four days in company) I will finish Lord Montagu's picture & my own for I had agreed long since to sit to him on his own account and both pictures were nearly finishd. I went accordingly and sate to him for nearly three hours when he finishd his own head in a most masterly manner and did a great deal to that designd to your Lordship but chiefly to the drapery. I upbraided him in jest with having taken best care of himself & he allowd he had but agreed whenever the paint on your copy was dry I should have a finishing sitting. All this being the case I think your Lordship should have the finishd picture which is really considerd as the best likeness which ever has been made of so indifferent an original for your Lordship cannot certainly be expected to take the unfinishd picture which would require one long sitting to bring it to the same perfection. In all respects they are quite the same only the dress is different to show that both were originals. (Letters, VIII, 45-46)
Scott subsequently wrote to the painter's son requesting that Lord Montagu be offered the refusal of the more complete portrait if it were to be sold (Letters, VIII, 62-64). The painter's family, however, were determined to keep the portrait as one of Raeburn's last and greatest works. In fact, Raeburn had worked on the portrait commissioned by Montagu after the writer had last seen it, and it was far nearer completion than Scott had feared. Indeed, Scott was to judge Lord Montagu's version 'a better picture (the subject considered) than any one but Lawrence could at present produce' (letter to Lady Louisa Stuart, 4 April 1824, Letters, VIII, 245).
| | | |
| --- | --- | --- |
| | The painting made for Raeburn's own gallery now hangs in the Scottish National Portrait Gallery. It is a half-length portrait of Scott in full face. He is portrayed wearing a dark-green coat, a buff waistcoat, and a gold chain. His collar is white and neckcloth black. The background is a dark reddish colour. Many copies of the picture were painted but, unlike Raeburn's 1808 portrait, relatively few engravings were made after the original. Click on the thumbnail, left, to see a copy by John Rattray, and on the thumbnail, right, to see a lithograph by Schenck & MacFarlane. | |
The version painted for Lord Montagu presents Scott in different clothes. His coat has a fur collar and his vest is of a light colour. It is now own by Sir Peter Usher, Bt., Hawick. Four painted copies have been made but no engravings. Click on the thumbnail below to see a photogravure made in 1903.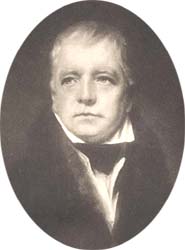 Bibliography
Caw, James L. The Scott Gallery: A Series of One Hundred and Forty-Six Photogravures, Together with Descriptive Letterpress (Edinburgh; London : T.C. & E.C. Jack, 1903)

Russell, Francis. Portraits of Sir Walter Scott: A Study of Romantic Portraiture (London: The Author, 1987)

Scott, Walter, Sir. The Letters of Sir Walter Scott, ed. H.J.C. Grierson (London: Constable, 1932-37)
Last updated: 22-Mar-2005
© Edinburgh University Library