Home | Corson Collection | Biography | Works | Image Collection | Recent Publications | Correspondence | Forthcoming Events | Links | E-texts | Contact
Schenck & MacFarlane
Friedrich Schenck (sometimes spelt Schenk) was born in Offenbach, Germany, in 1811. He trained as an artist and lithographer in Munich and Paris, and was brought to Edinburgh in 1840 by the lithographer and printseller Samuel Leith. In 1842 Schenck married Jane, daughter of the Orcadian poet David Vedder, and established his own lithographic business. He presented several papers on developments in lithography to the Royal Scottish Society for the Arts and was later awarded its Gold Medal for his contribution to Scottish lithography. In 1848 he entered into an informal partnership with the Belgian artist Louis Ghémar, then in 1850 set up the firm of Schenck & MacFarlane with William Husband MacFarlane (b. Dunfermline, 1805). Schenck & MacFarlane established a substantial reputation for the quality and variety of work that they produced, so much so that Schenck was invited to write the article on 'Lithography' for the 8th edition of the Encyclopaedia Britannica. In 1859 the partnership was dissolved, but MacFarlane continued to operate under the banner of Schenck & MacFarlane until 1871 when failing health forced him into partnership with William Erskine. He died in Italy in 1875. Following the dissolution of his partnership with MacFarlane, Schenck specialized in artistic work, especially chalk portraiture in collaboration with Otto Leyde. From 1866 to 1868 he worked in partnership with is son Frederick until the latter decided to pursue the study of sculpture. Schenck retired in 1875 and devoted his last years to teaching French and German and to writing historical and descriptive works on Germany. He died in Edinburgh in 1885.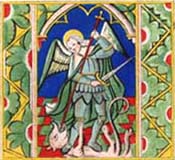 Click on the thumbnail to see a full-size image of a coloured lithograph by Friedrich Schenck
Schenck & MacFarlane's only Scott-related works appear to be lithographs of the 1823 portrait by Sir Henry Raeburn and of Henry Robinson's engraving of the 1830 portrait by Sir John Watson Gordon.
Bibliography
Schenck, David H. J. Directory of the Lithographic Printers of Scotland: 1820-1870: Their Locations, Periods, and a Guide to Artistic Lithographic Printers (Edinburgh: Edinburgh Bibliographical Society; New Castle, DE: Oak Knoll Press, 1999)

Scottish Book Trade Index (http://www.nls.uk/catalogues/resources/sbti/index.html)
Last updated: 21-Mar-2005
© Edinburgh University Library