Home | Corson Collection | Biography | Works | Image Collection | Recent Publications | Correspondence | Forthcoming Events | Links | E-texts | Contact
Sir Henry Raeburn's 1808 Portrait of Sir Walter Scott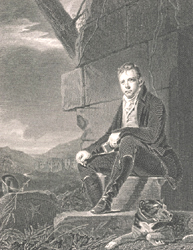 In 1808, Scott's publisher Archibald Constable, delighted by the unprecedented success of Scott's second narrative poem Marmion, commissioned a portrait from Sir Henry Raeburn. Unlike the earlier portraits of Scott which were designed for a private, domestic setting, Raeburn's portrait was very much conceived with reproduction in mind. For over a decade, it would be the most frequently engraved and widely diffused image of Scott. It proved immensely influential not only in framing Scott in the public's mind-eye but in creating a prototype for Romantic portraiture. Here for the first time Scott is explicitly personified as a poet in a setting imbued with allusions to his own work. He is portrayed deep in thought, with a notebook in one hand and a pen in the other. He sits on a fallen stone before a ruined medieval tower with his favourite dog Camp at his feet. In the background may be seen the hills of Liddesdale and Hermitage Castle, which are featured both in Marmion and Minstrelsy of the Scottish Border. Click on the thumbnail to the right to see an engraving of Raeburn's 1808 portrait made by John Horsburgh.
When exhibited in Edinburgh in 1809, the Scots Magazine judged it 'an admirable painting, with most appropriate scenery'. The Repository of Arts, however, wrote that: 'This last of the minstrels shows how lamentably the race is degenerated, for never was a more unpoetical physiognomy delineated on canvas; we might take him for an auctioneer or a land-surveyor, a travelling dealer or chapman: in short for any character but a bard' (III, 18:VI:1810, p. 36). Scott's friend J.S. Morritt considered it 'a most faithful likeness'. Scott's expression was 'serious and contemplative, very unlike the hilarity and vivacity then habitual to his speaking face, but quite true to what it was in the absence of such excitement'. However, Morritt felt that Raeburn had failed to convey the 'flashes of the mind within' which 'almost always lighted up' features that might otherwise appear 'commonplace and heavy' (quoted in Lockhart, Life, 2nd ed., III, 99-100).
Scott himself shared Morritt's view that in aiming for solemnity Raeburn had given him a somewhat stolid air. His features are softened in an alternative version painted for Scott himself by Raeburn in 1809. Eventually, though, Scott appears to have been reconciled to the 1808 portrait. When Archibald Constable was bankrupted in 1826 (see The Fall of Archibald Constable and Co.), the painting was purchased by Scott's patron the 5th Duke of Buccleuch. In a letter to the Duke of 14 December 1826, Scott wrote: 'I must say I was extremely gratified by seeing Raeburns portrait (which was like what the original was some two or three years before your Grace was born) hanging at Dalkeith and feel sincerely the kindness which placed it there. One does not like the idea of being knockd down even though it is only in effigy' (Letters, X, 139-40). Today the painting still hangs at Bowhill, home of the Dukes of Buccleuch.

Many published engravings were made after Raeburn's 1808 portrait. In his Portraits of Sir Walter Scott, Francis Russell lists 6 engravings of the complete portrait and 14 derivations including partial reproductions and variations on Raeburn's original. A mark of the ubiquity and recognisability of the image is its incorporation into the lyre on the title-page of the 1823 anthology The Beauties of Scottish Poets, Ancient and Modern (see right).
Click the links below to view a selection from Edinburgh University Library's Corson Collection.
| | |
| --- | --- |
| Reproductions | Derivations |
Bibliography
Dictionary of National Biography (London: Oxford University Press, 1921)

Johnson, Edgar. Sir Walter Scott: The Great Unknown (London: Hamish Hamilton, 1970)

Lockhart, John Gibson. Memoirs of the Life of Sir Walter Scott, Bart. (Edinburgh: R. Cadell, 1837-38)

Russell, Francis. Portraits of Sir Walter Scott: A Study of Romantic Portraiture (London: The Author, 1987)

Scott, Walter, Sir. The Journal of Sir Walter Scott, Bart., ed. W.E.K. Anderson (Oxford: Clarendon Press, 1972)

Scott, Walter, Sir. The Letters of Sir Walter Scott, ed. H.J.C. Grierson (London: Constable, 1932-37)
Last updated: 14-Mar-2005
© Edinburgh University Library