Home | Corson Collection | Biography | Works | Image Collection | Recent Publications | Correspondence | Forthcoming Events | Links | E-texts | Contact
Camp: Scott's Favourite Dog
Scott's bull terrier Camp features prominently in three early portraits of the author by James Saxon (1805) and Sir Henry Raeburn (1808 and 1809). In a letter of 11 March 1828 to the bookseller John Stevenson, Scott supplies the following biography and character-sketch to accompany a picture of Camp by the Edinburgh animal-painter James Howe (now apparently lost):
Camp was got by a black and tan English terrier calld [sic] Doctor the property of Mr. Storie, Farrier in Rose Street about 1800 out of a thorough-bred English brindled bull-bitch the property of Mr. John Adams of the Riding School Adjutant to the Royal Edinburgh Volunteer cavalry. He was of great strength and very handsome extremely sagacious faithful and affectionate to the human species and possessed of a great turn for gaiety and drollery. Although he was never taught any tricks he learned some of his own accord and understood whatever was said to him as well as any creature I ever saw. His great fault was an excessive ferocity towards his own species which sometimes brought his Master and himself into dangerous scrapes. He used to accompany me always in coursing of which he was a great amateur and was one of the best dogs for finding hares I ever saw though I have since had very fine terriers. At last he met with an accident which gave him a sprain in the back from which he never recovered after which he could not follow when I went out on horseback. The servant used to tell him when I was seen coming home. I lived then at Ashestiel and there were two ways by which I might return. If the servant said, " Camp, your Master is coming back by the hill," he ran to meet me in that direction. If the lad said, "by the ford," he came down to the bank of the river to welcome me ; nor did he ever make a mistake in the direction named. I might mention many instances of similar sagacity. He was seldom scolded or punished and except in his pugnacious propensities I never saw so manageable a dog. I could even keep him from fighting so long as I had my eye on him but if I quitted my vigilance for a moment he was sure to worry the dog nearest to him.

He is painted in two portraits of his owner by Raeburn [see image above] one at Dalkeith Palace and one in my own possession. He lived till about twelve years old and might have lived longer but for the severe exercise which he had taken when young and a considerable disposition to voracity especially where animal food was to be come by. I could add a number of curious anecdotes of his sagacity but they are connected with a family loss since sustained and are painful to recollect or detail. There is enough to illustrate Mr Stevensons picture which was painted by Mr Howe then a painter of animals of some merit.

I may add that the breadth of his chest and broadness of his paws made him a capital water-dog and when I used to shoot wild ducks—which was not often—an excellent retriever. (Letters, X, 398-99)
Scott appears to have acquired Camp around the time of his marriage in 1797 (see Williamina, Charlotte and Marriage). Writing to Charles Kirpatrick Sharpe, on 3 March 1809, Scott writes that 'the poor old fellow began the world (as they say) along with my wife and I at our marriage, and since that time has almost never been from the side of one or other of us' (Letters, II, 172-73). J.G. Lockhart describes Camp as 'the constant parlour dog [..] naturally very fierce, but gentle as a lamb among the children'. Scott, he recalls, always talked to Camp as if he understood what was said -- and the animal certainly did understand not a little of it; in particular, it seemed as if he perfectly comprehended on all occasions that his master considered him as a sensible and steady friend' (II, 64).

Camp as portrayed by James Saxon in

1805
The death of Camp is frequently alluded to in Scott's letters. To Richard Heber, he confesses in a letter of 10 March 1809, 'I was rather more grieved than philosophy admits of & he has made a sort of blank which nothing will fill up for a long while' (Letters, XII, 311). Lockhart writes:
He died about January 1809 and was buried in a fine moon-light night, in the little garden behind the house in Castle Street, immediately opposite to the window at which Scott usually sat writing. My wife [Scott's daughter Sophia] tells me that she remembers the whole family standing in tears about the grave, as her father himself smoothed down the turf above Camp with the saddest expression of face she had ever seen in him. He had been engaged to dine abroad that day, but apologized on account of 'the death of a dear old friend;' and Mr Macdonald Buchanan was not at all surprised that he should have done so, when it came out next morning that Camp was no more. (II, 248)
Sending an engraving of the Raeburn portrait to Lady Abercorn on 25 February 1811, Scott recalls that 'my friends wrote as many elegies for [Camp] in different languages as ever were poured forth by Oxford or Cambridge on the death of a crowned head'. He had been sent poems to Camp's memory in Latin, French, Italian, Greek, Hebrew, German, Arabic and 'Hindostanee' (Letters, II, 450).
Shortly before Camp's death, Scott's friend John Christian Schetky portrayed him in a design based around Scott's coat-of-arms. An engraving by James Heath figured on the title-page of Schetky's Illustrations of Walter Scott's Lay of the Last Minstrel (1808; see below).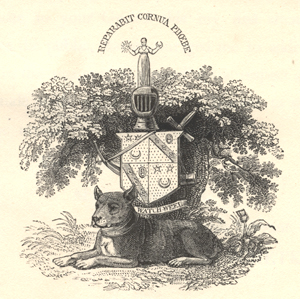 Bibliography
Lockhart, J. G., Memoirs of the Life of Sir Walter Scott, Bart. (Edinburgh: R. Cadell, 1837-38)

Scott, Walter, Sir, The Letters of Sir Walter Scott, ed. H.J.C. Grierson (London: Constable, 1932-37
Last updated: 26-Nov-2004
© Edinburgh University Library