Home | Corson Collection | Biography | Works | Image Collection | Recent Publications | Correspondence | Forthcoming Events | Links | E-texts | Contact
James Saxon's Portrait of Sir Walter Scott (1805)
The portrait painted by James Saxon in 1805 was the first to be made of Scott after he achieved public prominence as a writer. Earlier that same year, his first narrative poem The Lay of the Last Minstrel had been published, bringing Scott immediate and lasting success. A three-quarter length portrait measuring 48½ x 38½ inches, Saxon's painting depicts Scott sitting in an armchair and facing slightly to the left. He is holding a glove in his right hand and resting his left arm on his bull-terrier Camp who is seated on his knee. His hair is brown. The seat of the chair and the curtain in the background are red. Lockhart judged it 'a very fine picture, representing I have no doubt, most faithfully, the author of The Lay of the Last Minstrel' (IX, 259-60).

The picture was painted for Scott's wife Charlotte then ceded to Scott's London publisher Longmans who wished to have it engraved. They engaged James Heath to make an engraving in stipple which was published as the frontispiece to the 2nd impression of The Lady of the Lake in 1810.

Click on the thumbnail to see a full-size engraving of

James Saxon

's portrait of Scott made by

James Heath

(1810).
The original portrait now hangs in the Scottish National Portrait Gallery. Saxon painted a companion piece in 1810, portraying Charlotte, which hangs at Abbotsford. See, below, an engraving by George Baird Shaw prepared as a frontispiece for vol. V of the 2nd edition of Lockhart's Memoirs of the Life of Sir Walter Scott, Bart.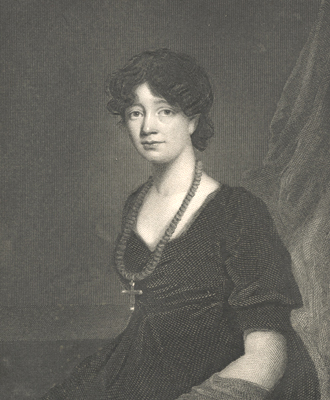 Bibliography
Lockhart, John Gibson. Memoirs of the Life of Sir Walter Scott, Bart., 2nd edn (Edinburgh: R. Cadell, 1839)

Russell, Francis. Portraits of Sir Walter Scott: A Study of Romantic Portraiture (London: The Author, 1987)
Last updated: 09-Nov-2004
© Edinburgh University Library