Home | Corson Collection | Biography | Works | Image Collection | Recent Publications | Correspondence | Forthcoming Events | Links | E-texts | Contact
The Discovery of the Regalia of Scotland (1821)
Following the Act of Union between England and Scotland in 1707, the ancient Regalia (or 'Honours') of Scotland were deposited in a locked oak chest in the Crown Room of Edinburgh Castle. Over the following decades, their whereabouts was forgotten, and it was rumoured that, counter to the terms of the Union, they had been carried away to England. Prompted by Sir Walter Scott, the Prince Regent set up a commission to search the Crown Room for the Regalia. On 4 February 1818, the Commissioners, including Scott, discovered the chest and found, wrapped in linen, the fourteenth-century Scottish Crown, the Sceptre of James V, and the Sword of State, a gift from Pope Julius II to James V. The Regalia were subsequently placed on permanent display in the Crown Room. Scott described the discovery in his Description of the Regalia of Scotland (1819).

Click on the thumbnail to see a full-size engraving of the newly rediscovered Regalia of Scotland by Edward Goodall after

Andrew Geddes

.
In order to satisfy the Prince Regent that the Regalia were authentic, the Commissioners were required to submit a report of their proceedings, accompanied by scale drawings of the components of the Regalia. Andrew Geddes was one of four artists chosen and produced an ink drawing of the Sceptre and an oil sketch of the Crown. Amidst continuing public excitement, Geddes prepared a massive group-portrait entitled The Discovery of the Regalia of Scotland. It was displayed at the Royal Academy in 1821 but had been in progress since 1818 when Geddes had prepared a portrait of Scott as a study. The finished painting found no buyer, owing probably to its sheer size, which, according to David Laing, would have been 'sufficient to fill the whole side of an ordinary sized apartment'. The canvas remained in Geddes's mother's house in Edinburgh until her death in 1828. The family then moved to a smaller house and had the painting removed from the frame and rolled up. It was subsequently so badly neglected that it had to be destroyed. According to Geddes's widow (who had no part in the neglect), some of the heads were cut out and sold as discreet portraits. None, however, has been traced. (The correspondence between Adela Plimer Geddes and David Laing is held in Edinburgh University Library's Laing Collection.)
The only surviving record of the composition is a drawing in the British Museum in black chalk and pen (8¾ x 13¼ inches), which shows twenty-four Commissioners arranged around a table on which the Regalia are displayed. Click on the thumbnail below to see a facsimile of the drawing; Scott's is the fifth head from the right.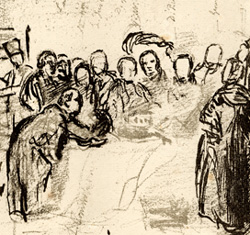 Bibliography
Bell, William (ed.). Papers Relative to the Regalia of Scotland (Edinburgh: Bannatyne Club, 1829)

Etchings by Sir David Wilkie, Limner to H.M. for Scotland, and by Andrew Geddes: With Biographical Sketches by David Laing (Edinburgh: Printed by R. & R. Clark, 1875)

Russell, Francis. Portraits of Sir Walter Scott: A Study of Romantic Portraiture (London: The Author, 1987)

Smailes, Helen. Andrew Geddes, 1783-1844, Painter-Printermaker: 'A Man of Pure Taste' (Edinburgh: National Gallery of Scotland, 2001)
Last updated: 12-Sept-2005
© Edinburgh University Library