Home | Corson Collection | Biography | Works | Image Collection | Recent Publications | Portraits | Correspondence | Forthcoming Events | Links | E-Texts | Contact
Kenilworth
First Edition, First Impression:
Kenilworth; A Romance. By the Author of "Waverley". In Three Volumes. Vol. I (II-III). Edinburgh: Printed for Archibald Constable and Co.; And John Ballantyne, Edinburgh; And Hurst, Robinson, and Co., London, 1821.
Composition | Sources | Synopsis | Reception | Links
Composition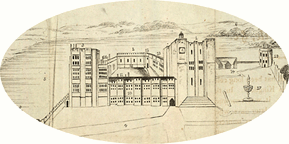 There is little surviving evidence regarding the genesis of Kenilworth. Recent biographers and editors have largely accepted the account given by Scott's son-in-law J. G. Lockhart in his Memoirs of the Life of Sir Walter Scott, Bart. (1837-38). According to Lockhart, Scott's regular publisher Archibald Constable wrote to suggest that, after portraying Mary Queen of Scots in The Abbot, Scott depict her nemesis Elizabeth I of England in his next novel. Scott may well have wished to propitiate Constable, having chosen the London firm of Longmans to manage the publication of The Monastery and The Abbot. He took up Constable's suggestion but not, however, the additional hint that the novel be entitled The Armada and focus on the attempted Spanish invasion. He based the plot instead around the alleged murder of Amy Robsart, first wife of the Earl of Leicester, a story which he had first encountered in a favourite ballad of his childhood, William Julius Mickle's 'Cumnor Hall' (1784). Cumnor Hall was to be the original title of the novel but, according to Lockhart, Scott bowed to pressure from Constable and accepted his publisher's suggestion of Kenilworth. Constable's influence did not stop here. His bibliographical knowledge proved invaluable in providing Scott with an extensive list of background reading. So proud was Constable of his contribution to Kenilworth that, according to his partner Robert Cadell, he was given to exclaiming, 'By G--, I am all but the author of the Waverley Novels!'
The letter containing Constable's original suggestion is lost but must have reached Scott in late December 1819 or early January 1820. A letter from Scott apparently acknowledging the suggestion is dated 12 January 1820. A contract for the new novel was signed as early as 18 January, even though Scott was still working on The Monastery and had yet to begin The Abbot. The new novel was originally scheduled to be published in late June 1820, but Scott did not complete The Abbot until August. He demanded a few weeks breathing space before starting work on Kenilworth in September. As the novel was complete by 27 December, however, it seems likely that Scott had previously engaged in extensive mental elaboration of the plot. Printing was complete by 5 January 1821 and the novel was published on 15 January in Edinburgh and 18 January in London.
The novel was published by Constable in partnership with the London firm of Hurst, Robinson, and Co. Negotiations between Constable and Longmans, originally designated as co-publisher, had broken down in October 1820. The association between Hurst, Robinson, and Co. and Constable would prove an unhappy one for Scott. The former's reckless involvement in speculation in 1825 would lead to Constable's bankruptcy and to Scott's own crippling insolvency in 1826 (see Financial Hardship).
Sources
Scott had attained extensive familiarity with Elizabethan source material while preparing scholarly editions of The Memoirs of Robert Cary, Earl of Monmouth, Sir Robert Naunton's Fragmenta Regalia (both 1808) the Somers Tracts (1809-15), and Samuel Rowlands's The Letting of Humours Blood (1814). In addition, for the entertainment of Queen Elizabeth at Kenilworth, he drew on Robert Laneham or Langham's undated and anonymous A Letter and George Gascoigne's Palace of Princely Pleasures, both of which he would have found in John Nichols's The Progresses and Public Processions of Queen Elizabeth (1788). Scott consulted William Dugdale's Antiquities of Warwickshire (1656) for a detailed plan of Kenilworth Castle, which he had also visited, in its partially ruined state, on his way back from France in 1815. For the tale of Amy Robsart and Cumnor Hall, he drew on Elias Ashmole's Antiquities of Berkshire (1719). Again, however, literary sources proved as influential as the historical archives. For both plot and period language, Scott owed an extensive debt to Elizabeth and Jacobean drama, particularly Shakespeare's Macbeth and Othello.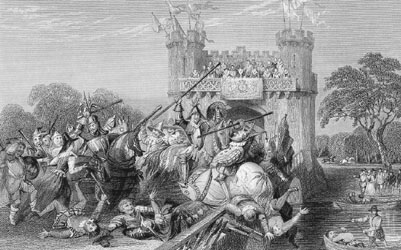 Synopsis
The heroine Amy Robsart enters into a secret marriage with the Earl of Leicester, spurning her fiancé, Edmund Tressilian, a Cornish gentleman. A favourite of Queen Elizabeth, Leicester feels obliged to conceal his marriage in order to maintain his position at court. Having fled her father's house, Amy is therefore kept a virtual prisoner in Cumnor Place, an old country house. Tressilian believes that Amy has been abducted by Leicester's Master of the Horse, Varney, whom Leicester has used as a mask for his own amorous intrigues. With the backing of Amy's distraught father, Sir Hugh, Tressilian accuses Varney before the Queen of unlawful seduction. In order to protect his patron, Varney swears that Amy is his wife. Not altogether convinced, the Queen orders Varney to produce Amy in that capacity during the projected revels at Leicester's castle of Kenilworth. When Amy indignantly refuses to play this role, Varney has poisons administered, which will provoke a mild illness and thus excuse her absence. Amy, though, thwarts Varney's plan with the assistance of Tressilian's page Wayland Smith and makes her way to Kenilworth. Here, before she can make her husband aware of her presence, she comes face to face with the Queen and appeals for her aid against Varney. As she cannot bring herself to declare her marriage to Leicester against her husband's wishes, the Queen thinks her mad and consigns her, eventually, to Varney's care. Varney, who sees in Amy an obstacle to his own ambition, persuades his patron that she is having an affair with Tressilian, and the jealous Leicester orders him to put her to death. Varney leaves Kenilworth with Amy in order to carry out the murder at Cumnor Place. A messenger sent to countermand the order, when Leicester has second thoughts, is brutally killed. Back at Kenilworth, Tressilian, who is ignorant of Amy's fate, makes a personal appeal to Leicester. Incensed, Leicester challenges him to a duel and is on the point of killing him, when the arrival of a delayed letter from Amy convinces him that Varney's accusations are false. Leicester confesses her marriage to Elizabeth who dispatches Tressilian to Cumnor Place to rescue Amy. He arrives at the moment that Varney has engineered her death through a fall. Varney is arrested and poisons himself in his prison cell; the heart-broken Tressilian enlists on the Virginia expedition and dies an early death; Leicester regains his privileged position at court after a brief period of disgrace.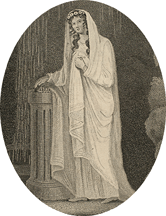 Reception
Kenilworth was an immediate success with both readers and critics. The Edinburgh Review praised Scott for bringing to life the character of Queen Elizabeth 'with the most brilliant and seducing effect'. The Quarterly declared that, while Scott's portrayal of Elizabeth did not quite live up to that of Mary in The Abbot, she was still a 'vivid and magnificent' character. As Scott had feared, however, the Quarterly along with the Gentleman's Magazine, thought the ending too tragic. The only serious adverse criticism came from the British Review which judged the novel 'a tedious performance' composed 'in a spirit of bookmaking'. Such, however, was the public response to the novel that sightseers flocked to Cumnor where the parish clerk made a small fortune out of showing visitors round the site of Cumnor Place. Lord Abingdon was widely criticized for having torn down the old mansion in 1810.
Links
Last updated: 20-July-2012
© Edinburgh University Library