Home | Corson Collection | Biography | Works | Image Collection | Recent Publications | Portraits | Correspondence | Forthcoming Events | Links | E-Texts | Contact
The Bride of Lammermoor
(Tales of My Landlord, Third Series)
First Edition, First Impression:
Tales of My Landlord, Third Series. Collected and Arranged by Jedediah Cleishbotham, Schoolmaster and Parish-Clerk of Gandercleugh. In Four Volumes. Vol. I (II-IV). Edinburgh: Printed for Archibald Constable and Co. Edinburgh; Longman, Hurst, Rees, Orme, and Brown, Paternoster-Row; and Hurst, Robinson, and Co. 90, Cheapside, London, 1819.
Composition | Sources | Synopsis | Reception | Links
Composition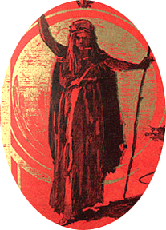 The Third Series of Tales of My Landlord, consisted of two tales, The Bride of Lammermoor, which occupied the first two-and-a-half volumes, and the shorter A Legend of Montrose, which occupied the remainder of the third and the whole of the fourth volume. The account of the composition of The Bride of Lammermoor in J.G. Lockhart's Memoirs of the Life of Sir Walter Scott, Bart. (1837-38), has gained wide currency. Lockhart relates that Scott had suffered from excruciating stomach cramps while working on the novel. He quotes James Ballantyne as declaring that the entire novel had been dictated by Scott from his sickbed. It had been published before his full recovery and, according to Lockhart, Scott had been too ill to correct the proofs. Ballantyne is again quoted as stating that Scott had been in such distress during his illness, that, when his health improved and he read The Bride of Lammermoor, he 'did not recollect one single incident, character, or conversation it contained'. When asked whether he liked it, Scott replied: `As a whole, I felt it monstrous gross and grotesque; but still the worst of it made me laugh, and I trusted the good-natured public would not be less indulgent.' Lockhart's account has led some to approach The Bride as an example of automatic writing. There is compelling evidence, however, that it is largely a piece of Romantic myth-making. Most of the manuscript survives in Scott's hand, as do his corrected proofs. Only the final chapters of the manuscript were clearly dictated.
Relatively little evidence has survived indicating the exact period of composition for The Bride of Lammermoor. The Third Series of Tales of My Landlord are first mentioned in a letter to Archibald Constable on 3 September 1818, where Scott indicates that he has already begun work on the first tale. By November, however, progress had become painfully slow. Scott was beset by visitors at Abbotsford, and was beginning to doubt whether he could tell the tale as effectively as his mother related the historical episode which inspired it 'in her quarter of an hour's crack by the fireside' (letter to James Ballantyne, 10 September 1818). In March 1819, Scott suffered a near-fatal attack of gallstones. He resumed work around 8 April, and as the manuscript indicates, dictated the final chapters. As the rest of the manuscript is in Scott's hand, he must have made good progress over the winter. Correspondence indicates that the novel was complete by the middle of April. Scott had finished writing the second tale, A Legend of Montrose, by the end of May, and Tales of My Landlord, Third Series, were published in Edinburgh on 21 June and London on 26 June.
Sources
The Bride of Lammermoor is based on a real-life family tragedy that Scott had heard as a boy from his maternal great-aunt Margaret Swinton and which became one of his mother's favourite fireside tales. Scott's heroine Lucy Ashton, derives from Janet Dalrymple, daughter of the great jurist James Dalrymple, first Viscount Stair. The Stairs were a landowning family sympathetic to the Covenanters, but Janet become secretly engaged to the Royalist third Lord Rutherford. She was compelled to confess the engagement when presented with a suitor approved by her parents and forced by a despotic mother to retract her vow. On the night of her marriage to her parent's approved choice, she seriously wounded her bridegroom in a fit of insanity and died a fortnight later without recovering her senses. Besides oral sources, Scott would have been familiar with written accounts of the episode in Robert Law's Memorialls and Sir William Hamilton of Whitelaw's 'Satyre on the Familie of Stairs', both of which add a supernatural element to the story.
Scott transfers an event which took place in 1669 to the years immediately preceding the Union of Scotland and England in 1707. The tragedy of Lucy Ashton unfolds against the persistent threat of a French-backed Jacobite uprising and the absence of effective government in Scotland. The geographical setting is transferred from the West of Scotland to the Eastern Borders. Various Berwickshire locations have been proposed as settings for the novel but none convincingly.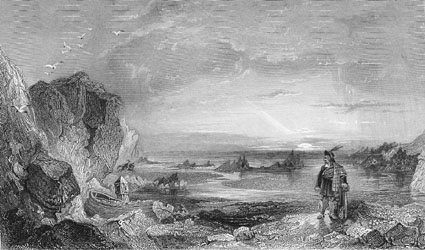 Synopsis
The novel's hero, Edgar, the Master of Ravenswood, inherits his father's hatred of Sir William Ashton, whom both blame for their family's ruin. The Ravenswoods have been stripped of their title following the Glorious Revolution and have subsequently lost their estate to Sir William, as a result of legal machinations, retaining only the dismal tower of Wolf's Crag. Inadvertently, however, Edgar saves the life of Sir William's daughter Lucy, and both fall deeply in love. A changing political climate leads Sir William to make his peace with Edgar. He looks favourably upon his attachment to Lucy, and the couple become secretly engaged. But when Lucy's despotic mother, Lady Ashton, arrives on the scene, she forbids all correspondence between the youngsters, and favours the suit of the Laird of Bucklaw, a political and personal enemy of Ravenswood. Put under severe pressure, Lucy agrees to marry Bucklaw but insists on writing to Edgar asking him to release her from her pledge. Lady Ashton intercepts the letter, and Lucy, assuming that Ravenswood is now indifferent to her, despairingly fixes the wedding day. Barely has the ceremony been performed, however, that Ravenswood appears and challenges Lucy's brother and new husband to combat. In that same night Lucy stabs and seriously wounds Bucklaw. She is found in convulsions and dies shortly afterwards without recovering her sanity. Further tragedy occurs when Ravenswood perishes in quicksand (in fulfilment of a prophecy) while riding to meet his antagonists.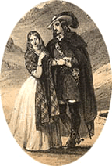 Reception
Sales of the Third Series of Tales of My Landlord were initially disappointing. On 13 August Constable expressed regret that it had been published too late in the season. The Bride of Lammermoor went on, however, to enjoy long-standing popular success. Scott's correspondent Lady Louisa Stuart spoke for many readers in calling Ravenswood 'perhaps the best lover the author ever yet drew' (letter of 11 August 1819). Critical response was mixed. The Edinburgh Magazine and Blackwood's were highly complimentary, the latter declaring the novel 'a pure and magnificent tragic romance'. As Scott had feared, however, other journals found the conclusion too gloomy and the characters' fates unjust.
Links
Last updated: 19-Dec-2011
© Edinburgh University Library