Home | Corson Collection | Biography | Works | Image Collection | Recent Publications | Portraits | Correspondence | Forthcoming Events | Links | E-Texts | Contact
Saint Ronan's Well
First Edition, First Impression:
Saint Ronan's Well. By The Author of "Waverley", "Quentin Durward," &c. In Three Volumes. Vol. I (II-III). Edinburgh: Printed for Archibald Constable and Co. And Hurst, Robinson and Co., London, 1824.
Composition | Sources | Synopsis | Reception | Links
Composition

Saint Ronan's Well is the only one of Scott's novels with a nineteenth-century setting. According to J.G. Lockhart, in his Memoirs of the Life of Sir Walter Scott, Bart. (1837-38), the novel was sparked by a suggestion made in July 1823 by William Laidlaw, Scott's friend, factor, and amanuensis. Hearing Scott declare that he was thinking of setting his next novel in Germany, Laidlaw urged him to stay on home ground. Why not, he proposed, try his hand at portraying the present-day domestic tragedies and comedies of a small Borders town like Melrose? Lockhart's dating is problematic, as there is clear evidence that Scott began the novel in May 1823, but no alternative account has been proposed of the novel's genesis.
On 13 May 1823, a mere ten days after the completion of Quentin Durward, Scott's publisher Archibald Constable heard from his partner (and eventual successor) Robert Cadell that Scott had begun work on a new novel. In little over a fortnight, Scott had written half of the first volume, and Cadell planned to announce its publication for July. At this stage, however, a decision was taken to defer publication until October. Sales of Quentin Durward, which had appeared only four months after Peveril of the Peak, were worryingly slow. Constable and Cadell both began to fear that the market was glutted with Scott product. Scott agreed to curtail work on the novel during the summer, and only completed the first volume in late August or early September. A fresh turn of speed, however, had Scott inform Constable on 14 September that the novel was half-finished. By mid-October he had written the bulk of the third and final volume, and the novel looked likely to appear in late October or November. Yet the final text was only delivered to the printers in December, and neither Scott's correspondence nor surviving papers clearly indicate the grounds for this unexpected delay.
Mark Weinstein, editor of the recent Edinburgh Edition of Saint Ronan's Well (1995), suggests that it was caused by a drawn-out disagreement over the novel's conclusion. According to Lockhart's biography, James Ballantyne, Scott's printer and business-partner, had been scandalized by indications that the sham marriage between the heroine Clara Mowbray and villain Valentine Bulmer had been consummated. Constable had backed Ballantyne up, and Scott at length agreed to rewrite the episode, although he always felt that the plot was seriously weakened as a result. Having examined Scott's manuscript, Weinstein concludes that the scandal lay elsewhere. There is no suggestion in the manuscript that Clara's marriage with Bulmer was consummated. It is revealed, however, that seven years before the action of the novel begins Clara had sexual intercourse with Bulmer's love rival Francis Tyrrel on the understanding that they would subsequently marry. It was this stain on Clara's virtue that Scott was persuaded to wipe clean. The Edinburgh Edition of Saint Ronan's Well restores Scott's original text, as there is clear evidence that the revision was made reluctantly and imperfectly, leaving many perplexing loose threads throughout the novel.
Saint Ronan's Well was published in Edinburgh on 27 December 1823, although the title-page bore the date '1824'. Scott indicates that the narrative is set some twenty years before the publication date. However, the many specific historical and local references in the text place the story at any point between 1803 and 1818. Mark Weinstein suggests that the most salient and consistent references place the action between 1809 and 1812 at the height of the Peninsular War.
Sources
Lockhart suggested that the plot originated in an undisclosed 'tale of dark domestic guilt' which Scott had come across as Sheriff-Depute of Selkirkshire (see Professional Life). John W. Cairns, in a 1993 article (see Bibliography), argues that elements of the plot emerge from the case of John Henry William Dalrymple and Johanna Gordon which Scott would have encountered not as a Sheriff but as Clerk to the Court of Session. Like Clara and Tyrrel, Dalrymple and Gordon had entered into a sexual liaison on promise of marriage. Dalrymple had subsequently abandoned Gordon and married a second party. Gordon's lawyers were able to persuade the Court of Session that she was married to Dalrymple under Scots Law, and that his official union was bigamous. Cairns's suggestion is adopted by Weinstein in the recent Edinburgh Edition, but in a series of articles for The Scott Newsletter, Richard D. Jackson has recently argued that the true 'tale of dark domestic guilt' involved two inhabitants of Darnick by Melrose, Helen and Elizabeth Milne (see Bibliography). Jackson also argues that Melrose is a persuasive model for the fictional spa-town of Saint Ronan's. Saint Ronan's has traditionally been associated with Innerleithen which developed a healthy nineteenth-century tourist trade on the back of its supposed Scott connections.
Once again, literary suggestions may have contributed as much to the plot as real-life sources. There are echoes of Sheridan's The Rivals, and Thomas Otway's The Orphan together with numerous references to Shakespearian tragedy. Another factor may well have been Scott's longstanding admiration for the novels of Jane Austen and curiosity to see whether he could produce something in a similar vein.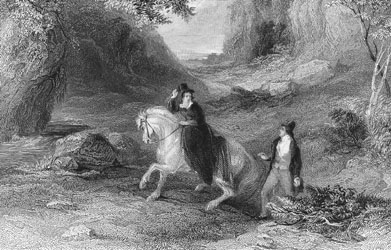 Synopsis
The novel portrays the fashionable society of the fictional spa-town of Saint Ronan's. The plot revolves around the enmity of two half-brothers, Valentine Bulmer and Francis Tyrrel. Their father, the Earl of Etherington has secretly married Tyrrel's mother abroad, then later made a public marriage to Bulmer's mother. Bulmer is thus the recognized heir and Tyrrel considered to be illegitimate. Bulmer tries to sow discord between the Earl and his half-brother, by encouraging Tyrrel's secret courtship of Clara Mowbray. Discovering however that union with Clara would bring fortune and earn the Earl's favour, he impersonates Tyrrel at a midnight marriage. The brothers quarrel and Tyrrel spares Bulmer's life on condition that he leave Saint Ronan's, and permit Clara to continue living under her maiden name. The Earl dies and Bulmer inherits his title. His profligacy has led him to the brink of financial ruin when he learns that he will inherit a fortune if Clara acknowledges their marriage. He returns to Saint Ronan's to persecute her and blackmails Clara's brother, John, a fellow gambler, into threatening his sister's life if she does not accept him as her husband. Tyrrel meanwhile is expecting papers which will prove his own claim to the earldom. Bulmer intercepts them and thereby learns that he is himself illegitimate. His accomplices betray him, and his designs are exposed by Mr Touchwood, a benignly meddlesome nabob. The mental strain on Clara, though, proves too great and she dies from a brain haemorrhage. Bulmer is killed in a duel by John Mowbray. Tyrrel inherits the earldom but leaves Britain in despair.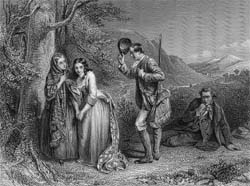 Reception
Saint Ronan's Well was perhaps Scott's least favourably reviewed novel. Journals such as the British Critic, Edinburgh Magazine, and Monthly Review lamented that Scott had 'descended' from the realms of historical romance to a genre, the novel of contemporary manners, which many lesser writers had made their own. Others were more violent in their censure. For the New European Magazine, it was 'an abortive and contemptible sixth-rate novel', 'one of the weakest and most trashy productions that we have ever seen'. The Literary Gazette and Universal Review joined the Literary Chronicle in condemning Scott for 'obtruding an inferior work on the public'. Only the Scotsman found lukewarm praise for the novel. Indeed, Scottish readers in general reacted much more favourably to Saint Ronan's Well than their English counterparts, relishing the satirical portrayal of provincial would-be high society. Tourists flocked to Innerleithen, and despite Scott's own reservations about the novel's suitability for the stage, a theatrical adaptation proved a great success in Edinburgh.
Links
Last updated: 19-Dec-2011
© Edinburgh University Library