Home | Corson Collection | Biography | Works | Image Collection | Recent Publications | Portraits | Correspondence | Forthcoming Events | Links | E-Texts | Contact
The Field of Waterloo
First Edition, First Impression:
The Field of Waterloo; A Poem. By Walter Scott, Esq. Edinburgh; Printed by James Ballantyne and Co. For Archibald Constable and Co. Edinburgh; And Longman, Hurst, Rees, Orme, and Brown, and John Murray, London, 1815.
Composition | Reception | Links
Composition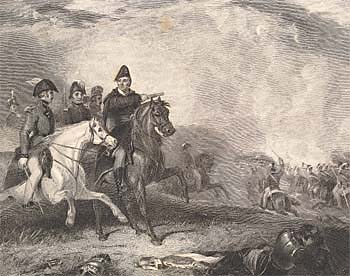 On hearing the news of the Allied victory at Waterloo (June 18, 1815), Scott burned to see the scene of Napoleon's final defeat and to visit newly conquered Paris. Continental Europe had been closed to British visitors for more than a decade, and Scott had never before travelled abroad. In August, he set sail for Belgium, hoping to recuperate his expenses by writing a series of imaginary letters describing his travels. These were to be published as Paul's Letters to His Kinsfolk (1816). Scott was amongst the first British civilians to view the battlefield at Waterloo, accompanied by General Adam's aide-de-camp, Captain Campbell, and Major Pryse Gordon. Mixing personal observation with information gained from his escorts and from other participants in the battle, he began work on a poem, profits from which would go to a fund set up for widows and orphans of soldiers. Proceeding to Paris, Scott obtained further details from Allied officers and spoke with the Duke of Wellington himself, whose lack of conceit and pretension greatly impressed him.
The poem was sent to James Ballantyne before the end of August and went to press in October. Pre-empting the cool reaction of many subsequent readers, Ballantyne made numerous objections and queries, taking a particular dislike to the opening line ('Fair Brussels, thou art far behind'). For the most part, Scott stood by his original text but reluctantly followed Ballantyne's advice in toning down reminiscences of his own The Lord of the Isles and The Lady of the Lake.
Reception
An initial run of 6,000 copies appeared on October 23, 1815. The poem sold well and went into a third edition by the end of year. The critics, however, were unimpressed. For the Critical Review, it was 'absolutely the poorest, dullest, least interesting composition that has hitherto issued from the author of Rokeby'. The poem's worthy purpose prevented other journals from being quite so harsh, but there was widespread censure of clumsy phrasing and other signs of authorial haste. Although The Field of Waterloo counted Byron amongst its few admirers, it is now best remembered through an anonymous squib:
On Waterloo's ensanguined plain
Full many a gallant man was slain,
But none, by sabre or by shot,
Fell half so flat as Walter Scott.
Links
Last updated: 19-Dec-2011
© Edinburgh University Library