Home | Corson Collection | Biography | Works | Image Collection | Recent Publications | Correspondence | Forthcoming Events | Links | E-texts | Contact
Charles Heath (1785-1848)
| | |
| --- | --- |
| The landscape and figure engraver Charles Heath was one of the most active and influential figures in British book production over the first half of the nineteenth-century. The son of James Heath, Engraver to the King, he was born on 1 March 1785. Apprenticed to his father, he made such rapid progress that in 1801, Benjamin West, President of the Royal Academy, commissioned him to engrave his large painting Our Lord Healing the Sick. Heath's true talent, however, lay for smaller plates for book illustration, where he was deemed to have perfected the style initiated by his father. He was soon so much in demand that he formed an atelier of assistants and pupils. As work produced by the atelier was invariably signed by Heath, it is often difficult to distinguish his own contribution from that of his co-workers. At first Heath and his atelier specialised in topographical prints but they soon turned to figure work, contributing prolifically to popular editions of English classics. A restless innovator, Heath has been credited with producing, for Thomas Campbell's Pleasures of Hope (1820), the first British published plates to feature engraving on steel rather than copper. Heath was certainly among the first to grasp the commercial advantage of steel over copper plates. Whereas the latter could produce only a few thousand prints, the latter could produce tens or even hundreds of thousands. | Charles Heath, engraved by Elizabeth Dawson Turner, ca.1820. Reproduced by kind permission of J.J. Heath-Caldwell. |
| | |
| --- | --- |
| Charles Heath was also employed as art editor and chief contributor on the increasingly popular annuals such as the Forget Me Not, Literary Souvenir, and The Amulet. He came to feel that the market for such productions was largely untapped and that it might permit him the opportunity to work as his own proprietor, introducing ambitious illustrative ventures, dealing with publishers on his own terms, holding copyrights, and using his own printing house. In 1827, he set up his own annual The Keepsake, for which he sought to enlist the leading literary figures of the day. Knowing Scott's financial plight (see Financial Hardship), he invited him to edit the annual. Scott thought the plates 'beyond comparaison [sic] beautiful' but, as his Journal records (30 January 1828), declined. He nonetheless sold Heath three stories originally designed for Chronicles of the Canongate but rejected by his publisher. 'My Aunt Margaret's Mirror', 'The Tapestried Chamber', and 'Death of the Laird's Jock' appeared in The Keepsake for MDCCCXXIX. Scott's juvenile drama The House of Aspen followed in The Keepsake for MDCCCXXX and, finally, 'A Highland Anecdote' appeared in The Keepsake for MDCCCXXXII. The Keepsake was followed, in 1832, by Heath's Picturesque Annual and, in 1833, by Heath's Book of Beauty. Heath was equally active in producing and promoting large-scale pictorial monographs such as Turner's Picturesque Views in England and Wales. | |
From 1828 onwards, Heath engraved relatively little himself, increasingly delegating work to his two sons Frederick Augustus (1810-78) and Alfred (1812-1896). A third son, Henry became Miniature Painter to Queen Victoria while his daughter Fanny married the artist Edward Henry Corbould (a second-cousin) whose designs would be extensively engraved by the Heaths. The family business branched out into security engraving for banknotes, and in 1840, Charles and Frederick Augustus were responsible for the engraving of the world's first postage stamp, the 'Penny Black'. Despite his entrepreneurial talents, Heath suffered constant financial difficulties. Bankrupted in 1821, he was forced to sell stock engravings to raise money in 1826 and 1840 and drawings by modern artists in 1839. Nonetheless, he continued to produce fine illustrated books such as Heath's Beauties of the Opera and Ballet until his sudden death on 18 November 1848. His obituary in the Art Union declared 'that he has probably created as much work for his professional brethren as any living man'.
Charles Heath was constantly occupied on Scott-related projects throughout his lengthy professional career. As his engravings were frequently republished, it is difficult to ascertain the first date of publication for each and to calculate precisely how many Scott illustrations he engraved. Besides the difficulty in ascertaining how much Heath contributed to the productions of his atelier, it is also sometimes difficult to establish whether an engraving signed 'Heath' is the work of Charles or of his father. The following list of illustrations is by necessity, then, selective.
| | |
| --- | --- |
| As early as 1809 Heath engraved six designs by Richard Westall for John Sharpe's illustrated edition of The Lay of the Last Minstrel and a further design by Westall for Sharpe's edition of Marmion (to which Heath's father James also contributed). In 1810 he again engraved a design by Westall for Sharpe's The Lady of the Lake followed by designs for Westall and Singleton for Constable's 6th edition of Marmion. In 1812, he engraved a design by Thomas Stothard (with whom his father had already frequently collaborated) for White & Co's edition of the Vision of Don Roderick and, the following year, three designs by the same artist for the 13th (Ballantyne) edition of Rokeby. In 1815 he engraved four designs by Westall for Longman's edition of The Lord of the Isles. | |
It is the early 1820s, however, which sees Heath's greatest engagement with Scott's work. From 1820 to 1825 he engraved numerous plates for Hurst, Robinson's series of Illustrations to the Works of the Author of Waverley. From 1820 to 1826 he engraved nine Scott illustrations for The Lady's Magazine. In addition, in 1820, he engraved Sir Henry Raeburn's 1808 portrait for Constable's edition of The Poetical Works of Walter Scott Esq. and one plate for Illustrations of the Novels and Tales of the Author of Waverley from Designs by William Allan. The following year, he engraved a design by Richard Cook for Longman's edition of The Lady of the Lake. In 1823 he engraved all the title vignettes and five frontispieces after designs by Charles Robert Leslie for Constable's 18th edition of The Novels and Tales of the Author of Waverley. In 1823, he engraved all the title-page vignettes and five frontispieces for Constable's 4th edition of The Poetical Works of Sir Walter Scott. (He was also to provide fresh vignettes for the 5th edition in 1830). It was partly the reputation won by his exceptionally popular engravings of Scott's works that persuaded Heath to set up as his own proprietor.

Click on the thumbnail to see a full-size image of an engraving by Heath to illustrate an edition of

The Monastery

.
These illustrations were much reprinted and it is not until the late 1820s that we find further Scott-related engravings. For the first two issues of his Keepsake, Heath engraved illustrations to Ivanhoe and 'Death of the Laird's Jock'. In 1835, he engraved four illustrations to Scott's poetical works after George Cattermole for Heath's Picturesque Annual. The Waverley Keepsake (1837) contained two new Heath prints (after J.M. Wright) illustrating Rob Roy. Finally in 1840, he 'superintended' the engraving of the illustrations for Heath's Waverley Gallery of the Principal Female Characters in Sir Walter Scott's Romances, though does not seem to have included any work by his own hand.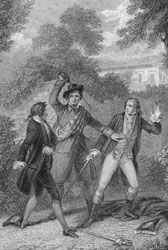 Click on the thumbnail to see a full-size image of an illustration to
Rob Roy
engraved by Charles Heath after a design by J.M. Wright.
It may seem surprising that Heath contributed only one engraving to the Magnum Opus edition of The Waverley Novels (the frontispiece to vol. I of The Abbot, right), especially considering that he was listed prominently among the engravers engaged when the Prospectus for the edition was published. However, Heath requested that 'instead of money you pay me for any Plates I may Engrave by writing as many pages per Plate [for the Keepsake] as may be agreed on' (letter of 23 February 1829, National Library of Scotland MS 3908/98-99). Scott judged this 'a pretty mode of accounting' and, with the approval of his editor Cadell, declined the proposal. Scott had also been struck by 'one funny part' of Heath's letter in which he assured Scott that, all the works having been previously published, 'the success of the new Edition of the waverley novels [sic] depended entirely on the excellence of the illustrations' (Journal, 27 February 1829). Scott appears to have been more amused than offended by Heath's comment, judging him 'well enough for his profession' (Letters, X, 374). Heath, though, appears to have lost the opportunity to contribute substantially to a landmark in the history of illustrated books.
For more engravings by Heath, search the Image Database. Heath is the best-represented engraver in the Corson Collection and was probably the most prolific engraver of illustrations to Scott's work. For further information on Heath and his family visit J.J. Heath-Caldwell's webpage.
Bibliography
Bryan, Michael. Dictionary of Painters and Engravers: Biographical and Critical. New ed., rev. and enl., ed. Robert Edmund Graves (London: G. Bell, 1886-1889)

Dictionary of National Biography (London : Oxford University Press, 1921)

Heath, John. The Heath Family Engravers 1779-1878 (Aldershot, Hants: Scolar Press, 1993)

Scott, Walter, Sir.The Journal of Sir Walter Scott, Bart., ed. W. E .K. Anderson (Oxford: Clarendon Press, 1972)

Scott, Walter, Sir. The Letters of Sir Walter Scott, ed. H. J. C. Grierson (London: Constable, 1932-37)

Todd, William. B., and Ann Bowden, Sir Walter Scott: A Bibliographical History, 1796-1832 (New Castle, DE: Oak Knoll Press, 1998)
Last updated: 21-Mar-2004
© Edinburgh University Library