Home | Corson Collection | Biography | Works | Image Collection | Recent Publications | Portraits | Correspondence | Forthcoming Events | E-texts | Contact
1. Pages for Scott-Related projects and organisations
2. General Pages on Scott's Life and Works
The following is a selection of online introductions to Scott. The sites and pages below provide a general overview of Scott's life and work, basic bibliographical information, an assessment of Scott's literary achievement, and/or seek to situate him within his literary and historical context. For links which focus more narrowly on Scott's biography, click here.
3. Foreign-Language Pages on Scott's Life and Works
Catalan | Czech | French | Italian | Polish | Spanish
Catalan
Música i literatura - Susagna Argemí's Catalan-language page provides a succinct biography and discusses Scott's reception in nineteenth-century Catalonia. It includes an audio link to Schubert's setting of 'Hymn to the Virgin' ('Ave Maria! Maiden mild!') from The Lady of the Lake and links to the German, English, and Catalan text of the song.
Czech
French
19e.org - Detailed French-language biographical page from Marc Nadaux's immense bio-bibliographical resource devoted to the historical period 1815-1914.
Italian
A.L.K. Libri - This Italian-language online literary journal offers a concise bio-bibliographical page with consideration of Scott's contribution to world literature and link to page on Ivanhoe.


Antenati - From an online history of European Literature, this Italian-language page gives a succinct bio-bibliographical account of Scott and considers his relationship with Romanticism.
Polish
Spanish
El Poder de la Palabra - From a site devoted to poetic prose, this Spanish-language pages gives a brief biographical account and discusses Scott's impact on Spanish and Latin American literature in the nineteenth century. There are links to images of the Sir Thomas Lawrence and Raeburn (1808) portraits.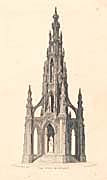 Last updated: 25-Nov-2011
© Edinburgh University Library